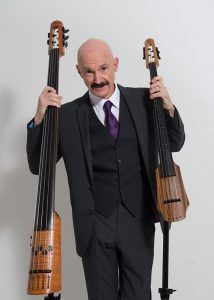 For Bass Players Only conducted its 700th bass player interview with none other than NS Artist Tony Levin. Congrats to Jon Liebman for many years of wonderful interviews with some of the world's best bass players! https://forbassplayersonly.com/tony-levin/
In the interview, Levin chats with FBPO's Jon Liebman in some detail about Levin's reunion effort with Prog supergroup Liquid Tension Experiment (LTE). Levin, John Petrucci (guitar), Jordan Rudess (keys) and Mike Portnoy (drums), have returned with their third studio album, just released last Friday, LTE3. Safely bubbled during the sessions, the album had been recorded secretly in August, 2020 at the Dream Theater Studio (DTHQ). Levin talks gear including the variety of basses he selected for making the album. Check out what he says about the song "Chris & Kevin's Amazing Odyssey" and why he chose the NS Upright for that particular song, despite being "an upright and it's got big strings… and it's not meant for playing super fast."
An avid photographer and blogger, Levin had time this past year to organize a selection of his tens of thousands of photos, negatives and transparencies into a 'coffee table book', called Images From A Life On the Road, sharing his visual chronicles from a most unique perspective.
It's not a surprise that it will be a busy year for Levin, with upcoming tour plans including Stick Men, King Crimson and Levin Brothers. Visit Tony Levin's Website and Road Diary for tour dates and to buy the book!
Levin plays the CRM Upright and CR Cello.