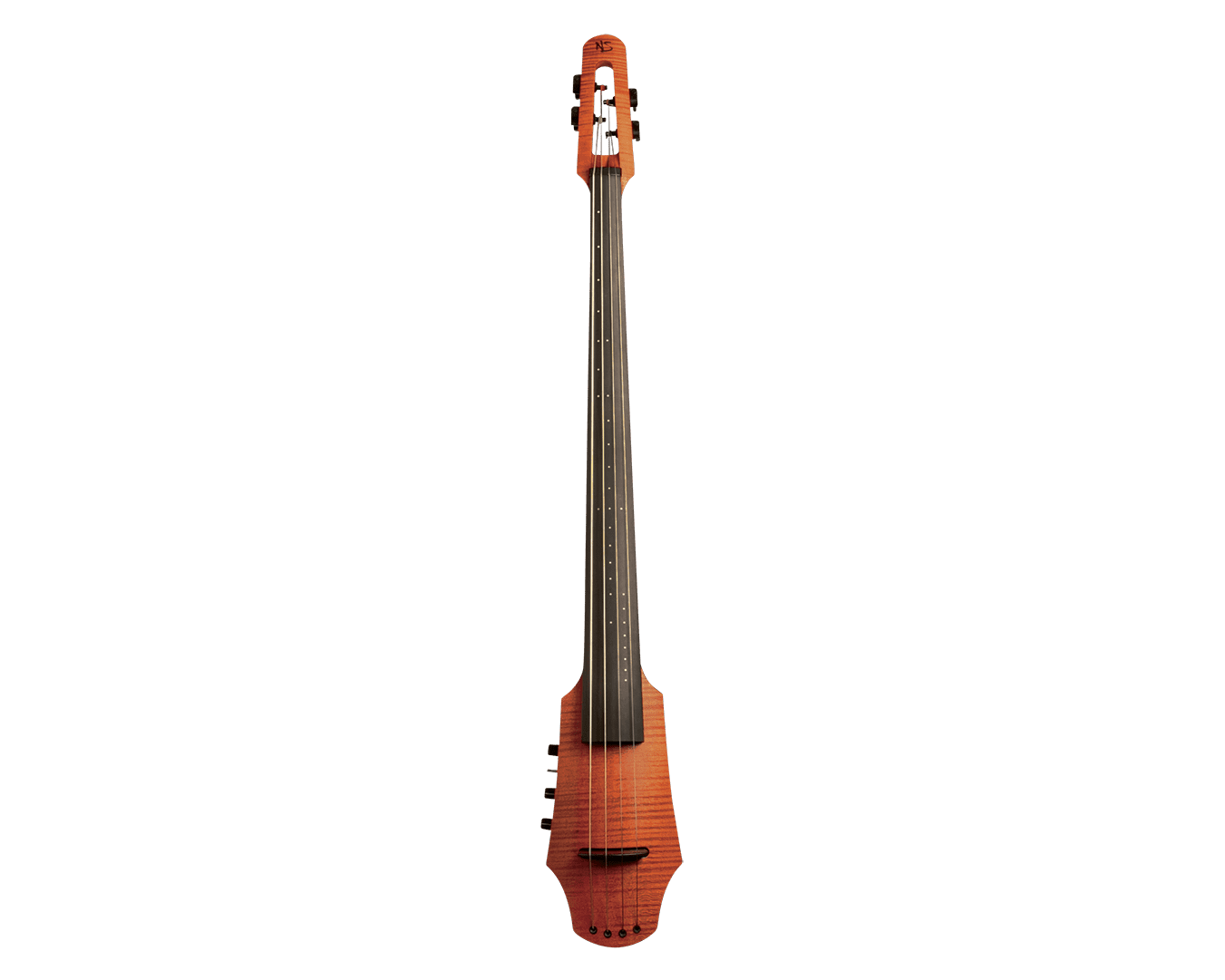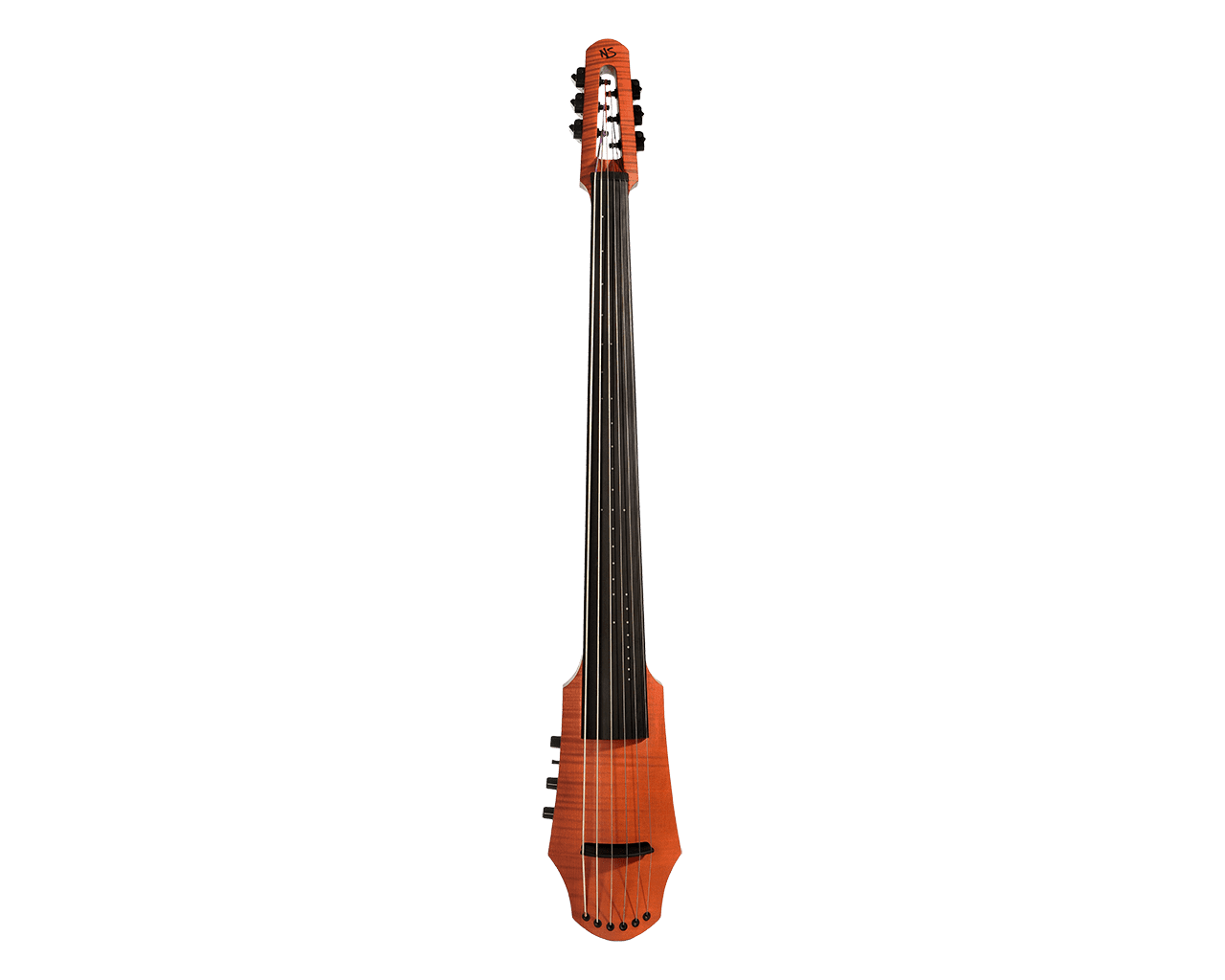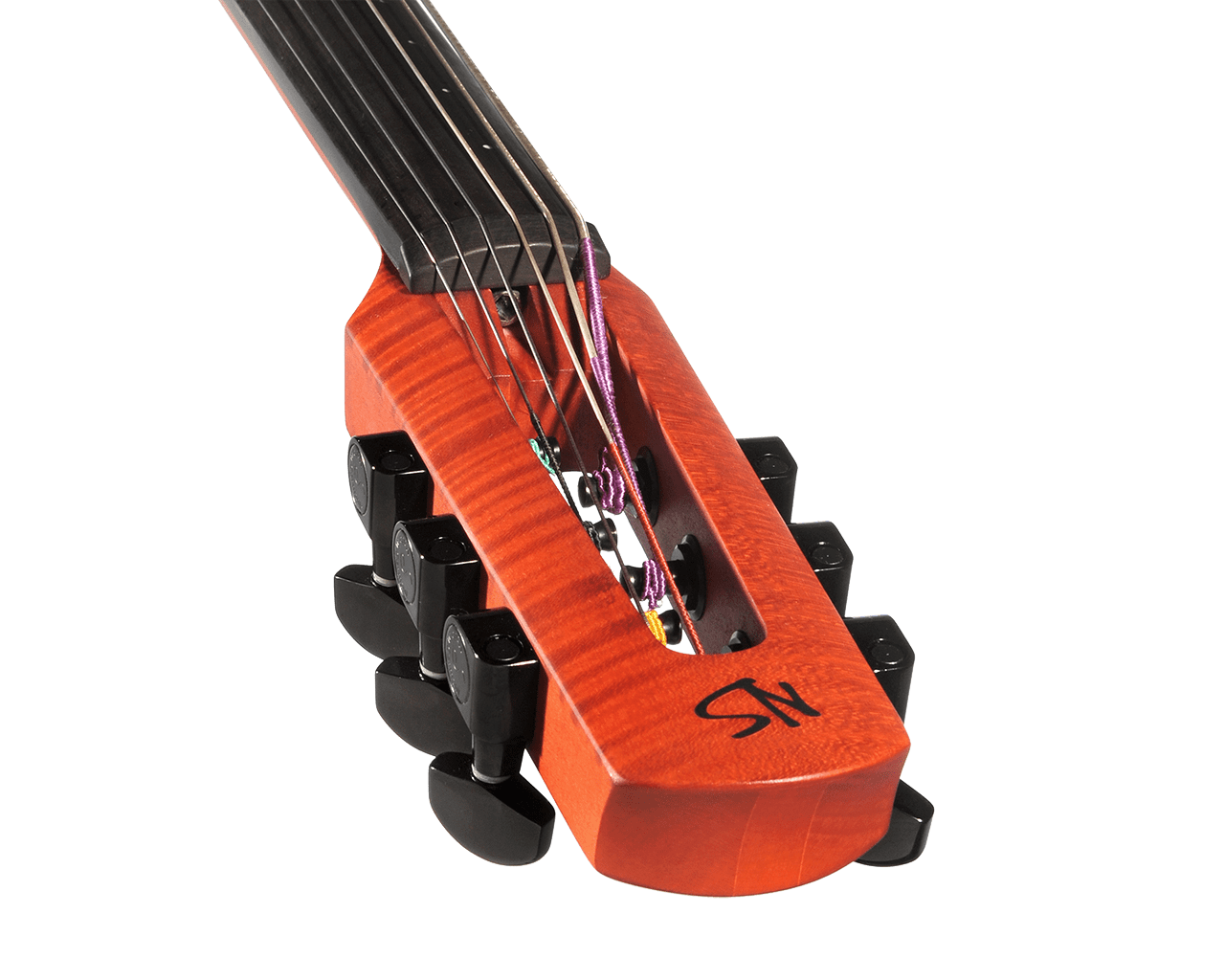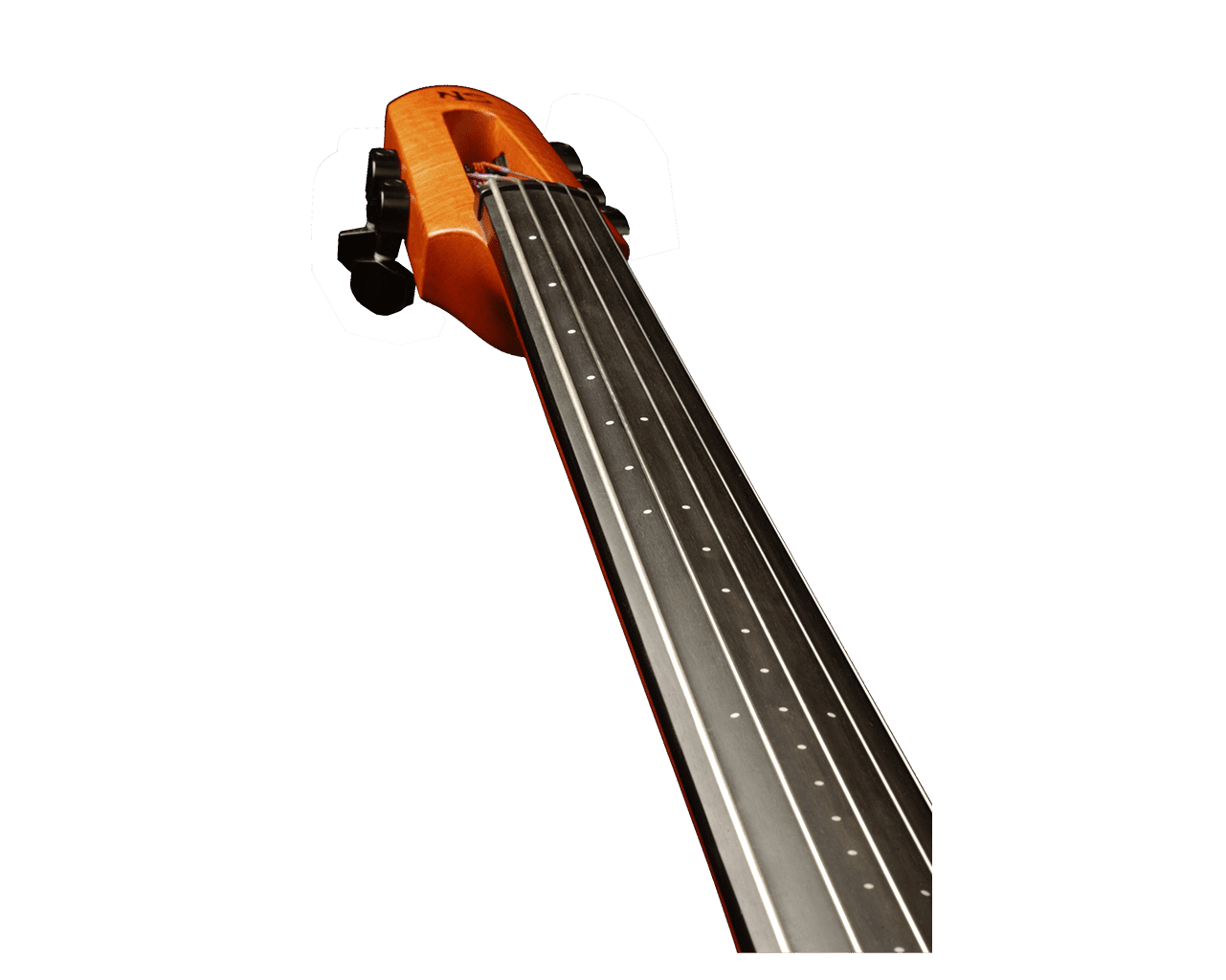 Description
This remarkable instrument, available with 4, 5 or 6 strings, is able to produce the delicate and precise tones of its acoustic parent as well as to create exciting new sounds through the tone shaping geometry of its innovative Polar™ piezo pickup system.
Interchangeable support systems provide new performance options. A fully adjustable tripod stand can be used seated or standing. The inventive Boomerang™ Strap System and Frame Strap System allows full mobility, while the conventional Cello End Pin Stand provides the traditional points of cello contact and position.
The use of standard cello strings and scale length establishes a familiar starting point for the cellist's journey to the electric world. From there anything goes. The energetic response of the NS Cello can be tamed to deliver a traditional cello tone, or set loose to explore new territory.
Features and Highlights
SOLID MAPLE BODY AND NECK: The CR Cello is crafted of European maple, with a flame maple face. This solid-body design develops a rich multi-dimensional tone free from the constraints inherent in an acoustic instrument. The traditional cello scale length and neck shape have a familiar feel, while the small body allows full access to the upper register. Brass escutcheon pin on the rear of the neck serves as a reference point corresponding to the heel of an acoustic cello. Solid construction provides structural stability to resist changes in temperature and humidity.
FINGERBOARD: The fingerboard is expertly graduated with an asymmetric profile to insure that each note is even and buzz free. An adjustable truss rod allows for precise relief adjustment for different strings and playing style. A cascading dot pattern across the neck provides an accurate reference for position.
BRIDGE PICKUP: The Polar bridge-mounted piezo pickup system responds selectively to either vertical vibration (for the sustained plucked sound, like an electric bass guitar), or lateral vibration (for dynamic bowing, and a percussive plucked sound).
ACTIVE ELECTRONICS: The dual mode preamp allows the player to choose between two very distinct tone qualities. The first mode delivers the full frequency response of modern low impedance electronics, for a rich, full-blown "electric" sound. The second is balanced to produce the frequency response of the traditional cello, for a more "acoustic" sound. A three-way toggle switch allows the player to select the desired pickup and electronics options. Additional controls include volume and individual bass EQ & treble EQ controls.
Specifications
LENGTH: 94 cm (37″)
WIDTH: 14 cm (5.5″)
THICKNESS: 9.5 cm (3.75″)
WEIGHT: 2.5 kg (5.5 lbs.)
SCALE LENGTH: 69.5 cm (27.36″)
STRING SPACING:
| | | |
| --- | --- | --- |
| Model | Bridge | Nut |
| 4-string | 4.8 cm (1.9″) | 2.4 cm (0.94″) |
| 5-string | 6.1 cm (2.4″) | 3.0 cm (1.18″) |
| 6-string | 7.1 cm (2.8″) | 3.3 cm (1.3″) |
CONSTRUCTION: Straight grain rock maple neck, body, and peg head. Hand graduated fingerboard. Flame maple face on body and peghead.
FINISH: Traditional amber stain with polymer top coat. Custom finish options are available for the CR Cello including Slate Gray, Quilted Maple, Poplar Burl and Zebrawood. Click here to see examples of these Custom CR Series finishes.
BRIDGE PICKUP: The Polar directional piezo pickup system responds selectively to either vertical vibration (for the sustained plucked sound, like an electric bass guitar), or lateral vibration (for dynamic bowing, and a percussive plucked sound).
ELECTRONICS: Volume, balance control for pickup selection, toggle switch for Polar system, bass and treble controls. 18-volt active circuit by EMG™ with an internal headphone amp / circuit. Mono output.
CONTROLS: (top to bottom)
Volume
Treble EQ
Switch for Polar pickup:up – pizzicato (vertical vibration)center – Pure Preamp Arco – Electric tonedown – arco (lateral vibration)
Bass EQ
HEADPHONE JACK: 1/8″ headphone jack for silent practice and self-monitoring.
TRUSS ROD: Neck relief is adjustable above the nut located with hex wrench.
TUNING MACHINES: Premium grade, fully encased worm gear tuners; black finish.
STRING TUNING: 4 string tuning: C G D A5 string tuning: Low F C G D A; High E tuning also available by request: C G D A E6 string tuning: F C G D A E
STRINGS: NS Electric Cello Strings supplied; the NS is designed to fit and is compatible with most standard strings.
Performance Support Systems
CELLO END PIN STAND: The optional Cello End Pin Stand has traditional knee and chest contact points for seated play. The height, knee rest position and instrument angle are adjustable. The knee rest folds so the stand fits in the gig bag. Weight is 1.36kg (3 lbs.)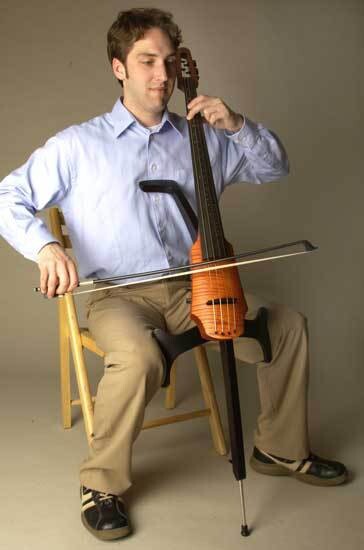 CR TRIPOD STAND: Optional fully adjustable steel tripod stand. Weight is 3.6kg (8 lbs.).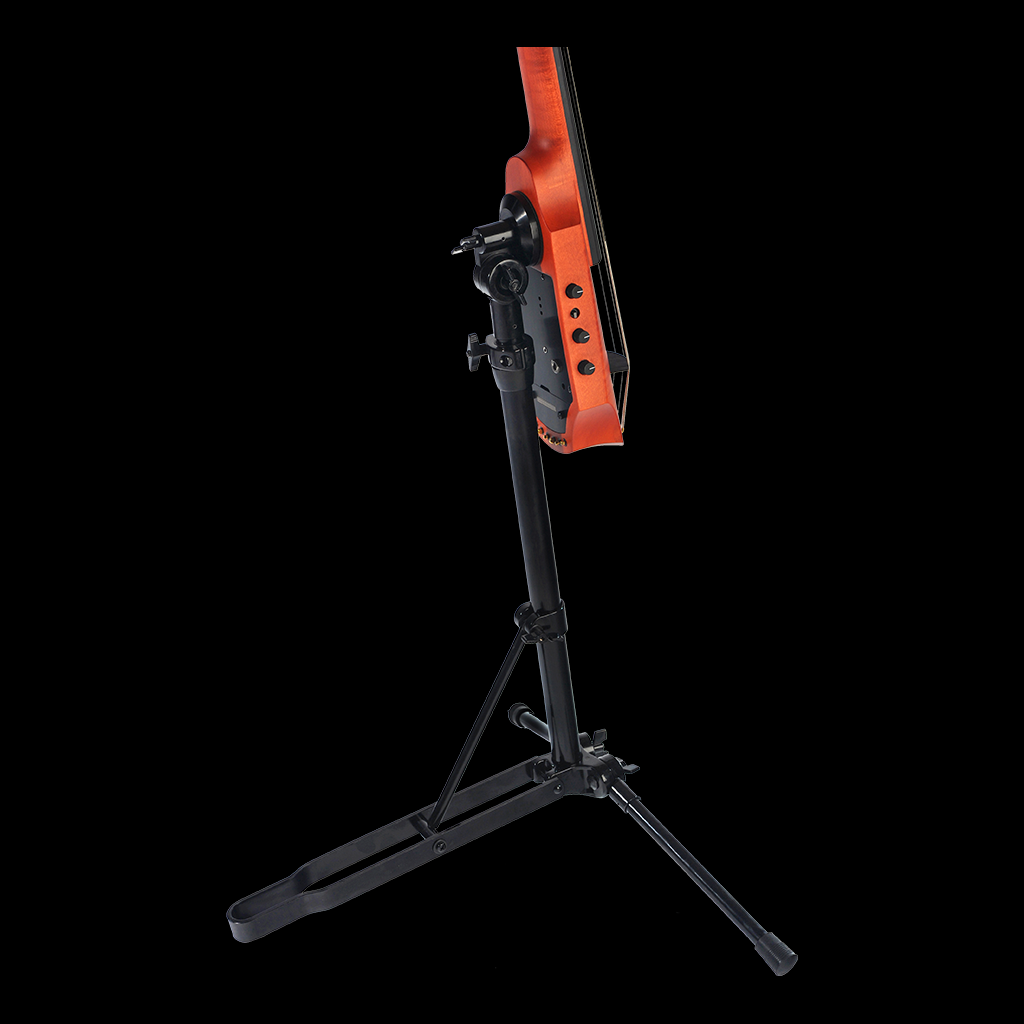 BOOMERANG STRAP SYSTEM: This optional support system has a pivoting friction hub that holds the instrument firmly in place close to the body. Attached with a guitar style strap to its two support arms, the system allows the instrument to be moved into virtually any position in relation to the hands and body as it is played. Weight is .45 kg (1 lbs.).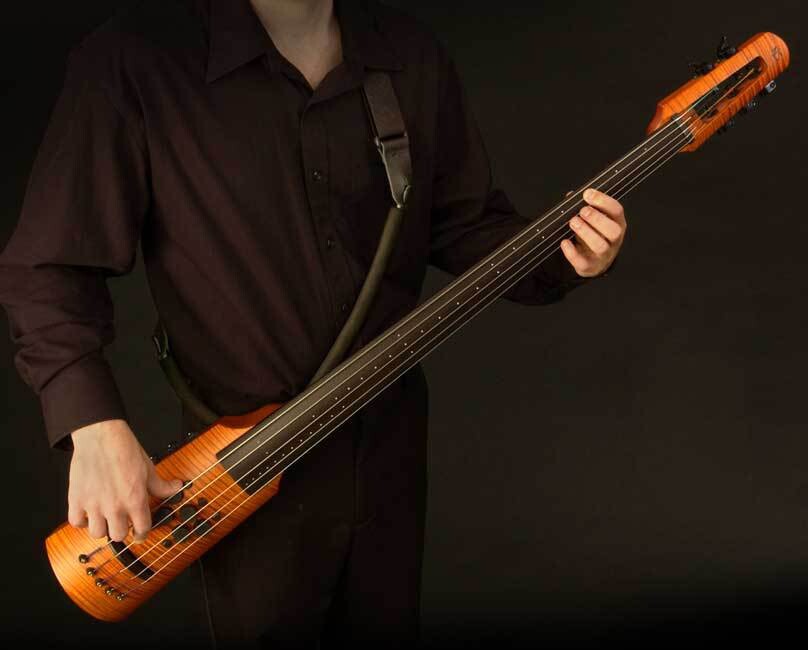 FRAME STRAP SYSTEM: This optional accessory is a lightweight frame structure that allows full mobility to perform in standing or upright position, holding the instrument out from the body similar to the reference in traditional positioning. The system is supported by a single guitar style strap extending over the left shoulder. Weight is 0.68kg (1.5 lbs.).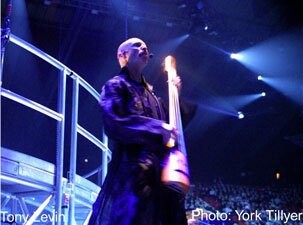 Owner's Manual