THE EU ELECTRIC UPRIGHT BASS
Our flagship double bass, the EU Series is made in the Czech Republic to the exact specifications of the original US Series instrument. The revolutionary design is molded with concentric laminations of graphite and rock maple that run the entire length of the instrument for maximum sonic integrity. The back of the neck is curved inward to follow the arch of the fingerboard, resulting in a slim, easy to play neck with full access to the upper register.
The Polar™ Pickup System, with its ability to respond to lateral and vertical vibration separately or both at once, is uniquely suited to an instrument that is both bowed and plucked. A fabulous bowed response and drum like pizzicato attack are characteristic of the lateral mode, while the sustained pizz. response of the vertical mode creates a new dimension for the upright bass. Magnetic pickups by EMG™ add a smooth option to the sound pallet. With active EQ and full control of pickup selection, the sonic options are virtually unlimited.
Available in 5 and 6 stringed models, the EU Series Double Bass, designed by Ned Steinberger, is in a class of its own, offering the bassist unparalleled performance and tonal quality.
Featured Technology The Polar™ Pickup System
As a player, you may not think about the direction your strings are vibrating, or even be aware that string vibrations on a musical instrument are polarized in relation to the fingerboard and the motion of the plectrum and bow. Yet direction is one of the most significant factors influencing the tone and response of a stringed instrument. In fact, instruments from the violin family are different from the lute or guitar in large part due to the effects of string polarization.
Read More
Support Systems The Frame Strap System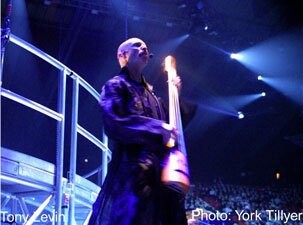 The Frame Strap System is a moving experience guaranteed to make you smile! The freedom of full mobility, only a dream for the cellist or upright bassist, is now a reality. The Frame Strap System fits over the shoulder like a guitar strap, but holds the instrument out from the body in the ideal position for bow and pizzicato technique.
Read More