If you could take all the energy you use to hold your violin and apply it to your playing, would you play differently? Optimal chin rest position is crucial for player comfort. Full adjustment allows each player to customize the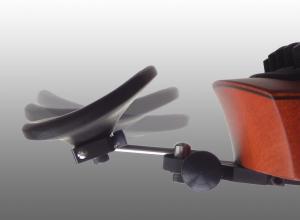 chin rest to fit vastly different body shapes and playing styles. Using your hand to overcome the friction of the clamp allows you to experiment to find a desirable chin rest angle. The chin rest can tilt forward and back, as well as left and right.
The clamping screws in the center of each hub can be adjusted to provide the desired amount of friction to insure that the chin rest does not move in use.
Using the 5/32″ hex wrench (provided) to adjust the level of friction, the chin rest position can also be moved closer or further from the instrument. It can also be rotated more to the center or more to the side.