NS Design is pleased to announce that Education Specialist Scott Laird has been recognized for his groundbreaking educational work with music technology. Scott is the recipient of the 2010 University of North Carolina Board of Governors and North Carolina School of Science and Math Award for Exceptional Contribution in Classroom Innovation.
The award recognizes curriculum development with emphasis on innovative technology, teaching strategies, and activities. Honorees are nominated by their colleagues and submit a portfolio to showcase their work.
Scott, who works as Fine Arts Coordinator and Music Instructor at NCSSM, has made a career of bringing his educational and musical talents to students both inside and outside the classroom. Beginning in the early 1990s, he pioneered the use of electric stringed instruments in traditional orchestra programs. In his portfolio submission, Scott  wrote: "I am always seeking innovative methods of instruction that will connect with students and enhance the learning process. I believe that the aspects of music and technology that inspire me as a musician, when presented effectively, will also inspire my students."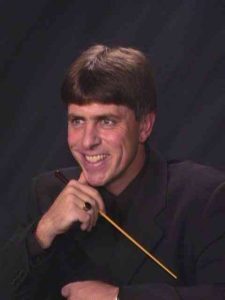 As Educational Specialist for NS Design, Scott has become a valuable resource for music teachers seeking to bring the benefits of electric instruments in their own students. In conjunction with NS Design's partner, D'Addario Strings, he has produced several instructional videos for students and educators on D'Addario's website www.thelessonroom.com. Many of these feature NS Design instruments.
"String teachers are necessarily a traditional crowd," Scott said. "The legitimacy and quality of NS Design's instruments appeal to those sensibilities."
Scott is also an active electric violinist and recording artist and has appeared on the Motown, REX and Roadrunner record labels.  His latest solo CD, entitled "Simple Gifts," features performances on a variety of string instruments with an emphasis on the electric violin.
You can learn more about Scott on his website, www.scottlaird.net.  From all of us at NS Design, congratulations!