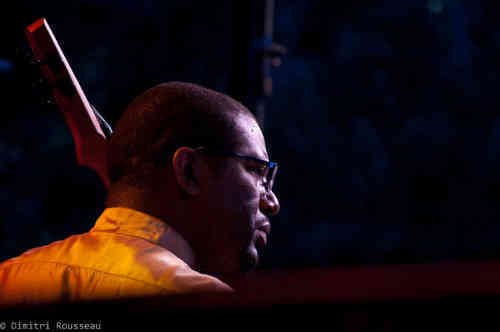 From award winning classical piano competitions to the Montreal Jazz Festival Anthony Cooperwood,  Keyboardist/Bass Guitarist/Backup Conductor for Cirque du Soleil's Dralion show, has toured the world several times over, performing thousands of shows.
Anthony has emerged as a gifted multi-instrumentalist and excels at whatever instrument may be in his hands at a given moment.  Aside from his "day job" at Cirque, Anthony is currently the music director for The Freddie James Project Musical Revue and bassist for Makaya (Haitian Jazz Quintet) based out of Montreal, Quebec.
Over the course of a three-year tour of Europe and North America, Anthony performed in well over 1800 shows.  His experience has made him a solid performer and bandleader well-rounded in every aspect of the entertainment industry.  He has played at venues from the U.S. Embassy in Moscow to The Royal Albert Hall in London. He has appeared on The Tonight Show in Los Angeles with Jay Leno and Musique Plus (Canadian MTV) in Montreal as well as  worldwide for Telemundo in Mexico and TV5 in Paris, France.
Born and raised in Kansas City, Missouri, Anthony Cooperwood won the 1989 Piano Fellowship Competition and received a 4-year full scholarship to Truman State University. After earning two Bachelors degrees in music and piano performance and a Masters  in Education, he moved east to New York City to continue his career there.  Anthony is also a trained classical pianist occasionally serving as a representative for Steinway & Sons pianos and further collaborations, endorsements and partnerships with Roland, MTD Basses, NS Design, The Chapman Stick, Dean Markley Strings and Canada's own Piano Prestige.
Cooperwood about his work with Circque du Soleil.
Click here to listen to the interview and watch the slideshow.