Glen Moore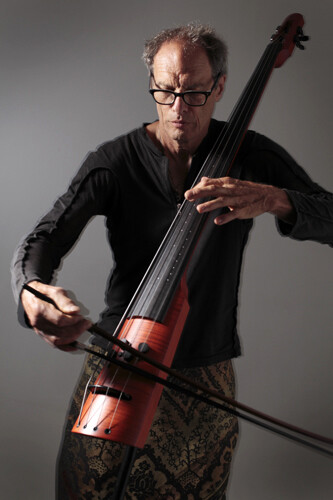 Instrument

CR Double Bass

Groups

Oregon, Solo Artist

Website
Glen Moore is a jazz bassist with early classical training in piano until age 13. He played bass in the school orchestra, experimenting with jazz and free improvisation on his own. His performing career began at age 14 with the Young Oregonians in Portland, Oregon where he met and played with American Indian saxophonist, Jim Pepper. He graduated with a degree in History and Literature from the University of Oregon where he also studied the cello. His formal bass instruction started after college with Jerome Magil in Portland, James Harnett in Seattle, Gary Karr in New York, Plough Christenson in Copenhagen, Ludwig Streicher in Vienna and Francois Rabbath in Hawaii. For the past 30 years, Glen has played a Klotz bass fiddle crafted in the Tyrol circa 1715 on which he has made extensive use of a unique tuning with both a low and high C string. More recently Glen returned to the fourths tuning and French bow after meeting Francois Rabbath.   "In 2012 I began to actively pursue the fifths tuning which looks like my biggest challenge yet. This next year is the 300th birthday of my bass and I'm planning some meetings during the year with people I've not yet played with."
His work in other styles of music includes folk singers Cyrus Faryar, Tim Hardin, Taj Mahal and Jim Morrison; celtic singers Lorenna McKennit and Susan McKeown; Irish fiddlers Alasdair Fraser and Kevin Burke; Irish guitarist Aidan Brennan; percussionists Glen Velez, Ramish Schotam, Airto Moriera, Arto Tuncboyaciyan; oudists Rabih Abou-Khalil and Humza al Din; sitarists Ravi Shankar and Collin Walcott; tabla players Alla Rakha and Trilok Gurtu; concerts with the Kronos Quartet, the Winter Consort, the Philadelphia Orchestra, St. Paul Chamber Orchestra, Stuttgart Opera Orchestra, and the Stavanger, Norway Orchestra.
Since 1988 he has worked with the Mountain Writers Center playing with renowned poets including Billy Collins, Joseph Straud, Yusef Komunyakaa, Karl Kirchway, Marvin Bell, Galway Kinnell, Brenda Hillman, Al Young, Patricia Goedeke, David James Duncan, Kim Addonzio, Lisa Coffman, Linda Greg, Agha Shadid Ali, Sherman Alexie, Sharon Olds, Anne Waldman, Joseph Duemer, Denis Johnson, Robert Haas, Toi Derricotte, Phillip Levine, Jamacia Kincaid, Reginald McKnight, Gerald Stern, Bill Knott, and Rita Dove.
Moore co-founded the group OREGON in 1970 with Ralph Towner, Paul McCandless and Collin Walcott. In 1999, he completed work on the group's 23rd album called, OREGON IN MOSCOW, which features his bass playing and compositions with the Moscow Tchaikovsky Symphony Orchestra. He has toured Eastern and Western Europe, Northern Africa, India, Pakistan, Sri Lanka, Australia and throughout the United States in major clubs, concert halls and festivals with OREGON His selected recordings include: Bass Is with David Holland, Jamie Faunt and Peter Warren on Enja; two duet albums with David Friesen, one on Vanguard and the other on Burnside; albums with Nick Brignola, Jeremy Steig, Paul Bley, Annette Peacock; Introducing Glen Moore with David Darling, Zbigniew Seiffert and Jan Hammer on Elektra; Dragonetti's Dream for unaccompanied bass on Intuition; three MOKAVE albums with Larry Karush and Glen Valez on Audioquest; three albums with Nancy King as KING & MOORE on Justice; five recordings with Rabih Abou-Khalil: two recordings with bassist David Friesen and numerous albums with OREGON. Solo recordings including INTRODUCING GLEN MOORE with Zbigniew Seifert, Jan Hammer and David Darling;  Nude Bass Ascending featuring Steve Swallow, Carla Bley, Rabih Abou-Khalil and Arto Tuncboyaciyan on the Intuition label and King on the Road featuring Nancy King and Rob Scheps on the Cardas Audio label.  Currently he plans to record the music he and David Friesen will perform in 2015.
His compositional flair for romantic piano songs, flamboyant and robust bass songs is well known to his audience. He has co-authored 15 songs with lyrics by Samantha Moore.
"Many of my compositions begin as etudes on the bass or piano.  I continue to share new practice regimes with my students and colleagues. Several accidents have brought me to Qigong exercises which helped me to regain strength and flexibility. At age 73 I can still be active in the gym and learn new ways to better use my body in bowing and fingering the bass."
Glen has a studio in Portland, Oregon where he gives private lessons to musicians from many stylistic backgrounds. He participates extensively as an instructor and as a student in bass conferences (Hawaii, Brazil, Minneapolis, Iowa and next year in Fort Collins), and is active in the International String Bass Institute. Glen is the father of three sons and lives in Portland, Oregon.
"This year I'm doing two tours with David Friesen one in Arizona in Feb  of 2015 and another in March in europe."  Glen and bassist Peter Herbert are planning a recording project featuring the music of Ralph Towner.
I continue to play with Mountain Writers Series Poets, Robert Wrigley, Kim Barnes, Barbara Ras, Christopher Howell, William O'Daily, Tess Gallagher, Alice Derry and David Duncan.
"My life has brought me new interests, including hiking in the Oregon coast forests with our four dogs, attending primitive skills gatherings with my family, including a brief stint playing a gut-stringed washtub bass with a blacksmith named Mad Jack and a very talented guitar player named Rob Withrow.  I also spent time with Rob deep in the Arizona desert chasing javelinas and scouting abandoned mining sites.  Finally,  I have been thriving on the Paleo diet for more than three years, which has made all of the above more possible than ever."