Louis-Pier Racicot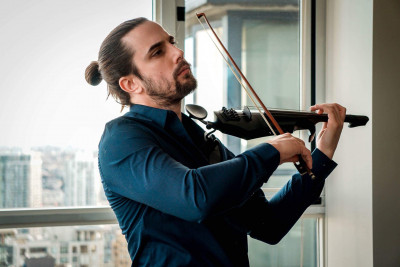 Instrument

NXT Violin

Groups

Cavalia Odysseo, Solo Artist

Website
Classically trained musician, Louis is a multi-instrumentalist, composer and arranger. After his study in Classical Violin performance at University of Montreal Louis started a project by arranging music  for solo violin and mini big band. With that project he auto-produced himself and with the help of Pier-Luc Vandal, sound engineer, they released their first video.
Shortly after the video was released, Louis got contacted by the show Cavalia Odysseo to work as the solo violinist. During his work with Odysseo, Louis played over 700 shows in North America and recorded violin for the upcoming Imax movie, performed and talked about his role in the show for various TV shows, radio shows and press. He has worked closely with the music composer Michel Cusson.
Louis is a very versatile musician and master of improvisation in many different styles of music, namely electronic, jazz, classical, world and pop. His interest towards all types of music brought him to compose and produce his own style of music and he is currently working on different projects from orchestral film scoring to deep house electronic music.