Michal Urbaniak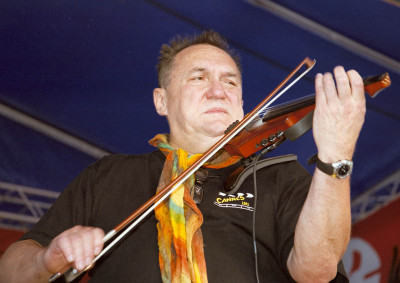 Instrument

CR Violin

Groups

Solo Artist, Miles Davis, Jaco Pastorius, Billy Cobham, Quincy Jones

Website
Leader, Composer, Arranger, Violinist, Saxplayer & Multiinstrumentalist
Michal Urbaniak is one of the biggest jazz stars. Violinist, saxophonist, composer, arranger, developer of young talents. Since 1973 has lived in New York. Michal Urbaniak became a world famous jazz star after he recorded the "TUTU" album with the biggest – Miles Davis.
Many times he has received and given many invitations to co-perform with such famous jazz masters like: Quincy Jones, Billy Cobham, Stephane Grappelli, Joe Zawinul, Herbie Hancock, Wayne Shorter, Kenny Garrett, George Benson , Marcus Miller, Jaco Pastorius, Toots Thielmans, Kenny Kirkland, Larry Coryell, Lennie White, Alphonze Mouzon.
He is a creator , leader, composer and arranger of his own projects: "Jazz Legends", "Fusion", "Urbanator", "UrbSymphony". Michal Urbaniak has performed several times at Carnegie Hall and at many famous world and NY jazz clubs like Blue Note, Village Vanguard, Sweet Basil. He has received awards, has been a winner of numerous foreign plebiscites and in 1992 his name appeared in first place in the prestigious "Down Beat" jazz magazine in 5 categories among the biggest jazz stars. He has recorded over 60 albums.