April Guthrie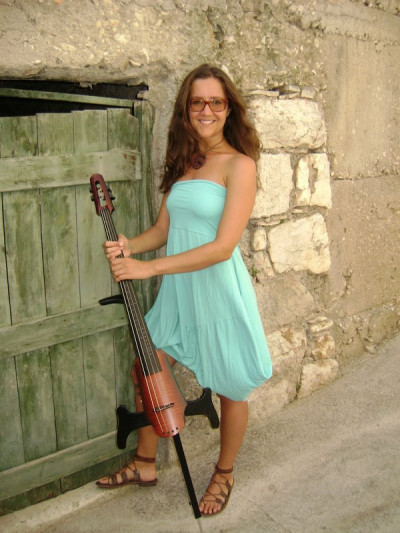 Instrument

NXT Cello

Groups

Guthrie & Streb, Solo Artist

Website
April Guthrie, originally from Kansas City, is a Los Angeles based artist dedicated to performance and collaboration with artists of all genres with a focus on performing works by living composers. She holds a Master's Degree in Multi-Focus Cello Performance from the California Institute of the Arts and a BA in Cello Performance from Illinois Wesleyan University. Her focus on contemporary music, performance art, and improvisation has brought her to work directly with Louis Andriessen (La voce), Georges Aperghis, Muhal Richard Abrams, Eva-Maria Houben, Joan LaBarbara, Libby Larsen, Vinny Golia, Joan LaBarbara, Mario Lavista, Radu Malfatti, Stephen L. Mosko, Michael Pisaro, Stephen L. Mosko, David Rosenboom, James Tenney, Wadada Leo Smith, Christian Wolff, and John Zorn. Guthrie's musical style is also influenced by studies with the renowned Javanese composer Djoko Walujo WP–with whom she studied rebab and performed in the Kyai Dorodasih Gamelan on both cello and Javanese gamelan instruments.
While in Los Angeles, Guthrie curates, produces, and performs in concerts of work by living composers. These concerts have included the 2006 North American premiere of French/Greek composer George Aperghis' Sextuor: L'origine des espèces. Using texts from both Darwin and Gould, this chamber opera tells the story of evolution, with the cellist as the "theorist" in a speaking/playing role. She continued this on at the Darmstadt New Music Festival and worked directly with Mr. Aperghis on performance style for the chamber opera.
For over 10 years she has curated and performed concerts with Guthrie & Streb, a duet that has more than 50 composition written directly for them, and numerous residencies and concert series that promote experimentation within their classical string instruments. In 2010 she completed an artist's residency (with violist Cassia Streb of Guthrie & Streb, filmmaker Madison Brookshire, and sound artist Michael Pisaro) at the Hammer Museum in Los Angeles, California. The residency resulted in a 70 minute film, Transparent Cities, with prerecorded and live music, and is a portrait of Los Angeles that studies the complex relationships between reality and recording, presence and absence, lived experience and re-presented time. Their most recent concerts focused on human's use of counting in life, and was centered on Tom Johnson's counting duets.
Prior to that residency Guthrie organized a retrospective concert of the work of American composer Earle Brown with friends and colleagues of the late Mr. Brown performing. This concert–in collaboration with The Earle Brown Foundation–included a publication with writings by Michael Pisaro, Christian Wolff, Joan LaBarbara, Erika Duke-Kirkpatrick, Dorothy Stone, Art Jarvinen and many others.
Her recent concerts and tours have taken her to Alaska, Australia, Canada, Serbia, Croatia, Slovenia, Macedonia, Germany, England, and to all corners of North America; performing and recording with FUN: Guster; Moira Smiley & VOCO; Spiritualized; Seawolf; The Grandmothers Reinvented (Zappa); and with guitarist Miroslav Tadic and actor Rade Serbedzija.
As a private cello teacher Guthrie enjoys teaching all ages with a focus on technique, traditional repertoire, composition, theory and creativity. She has taught, hand-doubled, and recorded for the film industry. This included teaching actress Deanne Bray for the television show Heroes, where she worked with composers Wendy Melvoin and Lisa Coleman (Wendy & Lisa). Her recent film work includes teaching, hand-doubling, composing, and recording for The Mourning Hour, as short independent film by Shevaun Kastl featuring Robert Knepper. In 2014 she taught and hand-doubled for Amy Acker on Agents of S.H.I.E.L.D.