Bahman Sarram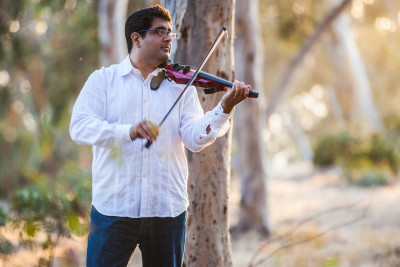 Instrument

WAV4 Violin

Groups

Solo Artist, bViolin, Mystic Groove Eclectic

Website
Bahman Sarram is an artist, violinist, composer, producer and singer/songwriter whose music ties together many cultures and expressions into an ecstatic celebration of life. Based in San Diego, Bahman has won over audiences with his passion and unlimited energy that vibrates through his performances and diverse musical palette.
His composing credits include composing for the award-winning film "Circumstance" and several independent films and documentaries.
Bahman's musical versatility knows no bounds and can't be categorized into a single genre. No matter what style he's playing whether funk, jazz fusion, Middle Eastern, Conscious Music, folk or rock, his improvisational skills, raw energy and natural instinct for melody leaves audiences with a feeling that they have experienced something unique and rare.
Bahman's childhood roots in classical violin training fused in his early adulthood, being drawn to playing with artists from all different musical genres, expanding his palette for music.
"I was 4 years old, and my family was being exiled from our country, our home. We were fleeing a land ripped apart by turmoil, and political and social revolution."
For Bahman, the uneasy years of his childhood in Iran were marked by chapters of triumph and tribulation. Those memories continue to have a profound effect on him and his music to this day.
"I remember the music of my homeland, dancing while my mom sang at parties. I remember always being moved by sound and wanting to be part of it in some way," Bahman says. "I know those days will always be a part of me, every time I play. It's inescapable".
Today Bahman and his group The Mystic Groove Collective includes a lineup of musicians that have been together for over 15 years playing for diverse audience with a passion that leaves listeners entranced at every show.
IN the Fall of 2019 Bahman is premiering his theater piece Refugee Songs – A Musical Journey
"The remarkable true story of a young musician uprooted from a homeland torn apart by revolution."