Calum Ingram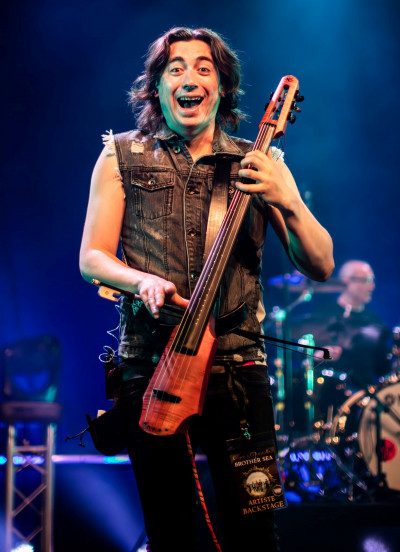 Instrument

CR Cello, NXTa Cello

Groups

Solo Artist

Website
The NS Design cello compliments and accommodates my style extremely well as I am a pretty ferocious player and the solidarity of the instrument is perfect for this. I do a lot of different strumming techniques which sound so great on the NS, including the infamous "claw & hammer" technique. The NS is also great for playing with a drummer in a loud rock scenario, as there are no feedback problems… it's perfect! Now that I have both an NXT5a and a CR5, I no longer require an acoustic instrument with my band which is a godsend, as the power, loudness and momentum the NS allows me to get is just remarkable! Another feature I love (for a pretty different reason than most!) would be the arco/pizzacato pick up selector on the CR5… however, I really love the sound I get with the bow, it fits my style so well as I change rapidly from bow to pizzicato constantly! The NS cello also lets me reach that top high 'E' string to get to violin range, which has just been awesome! It really is the instrument of my dreams!!

—Calum Ingram
Calum Ingram is a classically trained cellist and singer/songwriter from Paisley in Scotland whose original music blends traditional celtic influences, blues, folk, roots rock and americana with a dynamic and fluid performance style, employing a prodigious use of effects pedals and a unique strumming technique that fully exploit the naturally powerful expressive voice of the NS Design CR5 Cello.
A former student of The New School for Jazz and Contemporary Music in Manhattan, NYC, Calum has played with a diverse mix of the city's musical denizens, including Shane Scarazzini, Ida Hawk and Richie Cannata, whilst earning a name for himself as an award winning composer for the 2013 off-Broadway show "Division Avenue" and for his British Blues Awards nominated debut solo LP "Making it Possible", recorded at New York's Avatar and Speaker Sonic Studios and mastered by Gene Paul, brother of guitar pioneer, Les Paul.
In Europe, having appeared as a guest of Jack Bruce on his 2011 UK Tour, Calum was invited to appear at a 2016 tribute show to the late bassist at London's O2 Shepherds Bush Empire, sharing the stage with such British luminaries as Lulu, Mick Taylor, Steve Hackett, Eddi Reader and Ginger Baker. He has also played with bassist
Alan Thompson (John Martyn, Pentangle), American reggae band SOJA, The Grenaways, Deacon Blue and Imelda May, and also featured in the 2017 Sky Arts TV series "Tony Visconti's Unsigned Heroes", performing his own radical reworking of Thin Lizzy's "Dancing In The Moonlight" alongside legendary Police rhythmatist, Stewart Copeland.
Throughout 2018, Calum has continued to win hearts and minds with a series of genre defying, emotionally diverse solo performances and festival shows as well as through regular tours with acclaimed Scottish singer-songwriter and multi-instrumentalist, Sandi Thom, guest appearances with modern ska band, Jay Supa & Da Kryptonites, and collaborations with asylum seekers from Syria, Iran and Iraq as part of the humanitarian outreach project, "Musicians In Exile".
2019 will see Calum working on and recording new material with producer and mentor, Kirk Yano (Mariah Carrey, Public Enemy, Elton John, 2 Cellos, Miles Davis, Soulive, and more), embarking on a full UK/European tour and teaming up with D'addario Orchestral for a series of workshops and masterclasses.