Chris Payne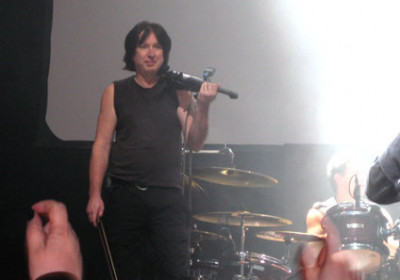 Instrument

WAV Violin

Groups

Gary Numan, Celtic Legend, Dead or Alive

Website
Chris Payne is a British Composer of Orchestral, Folk/Ethnic and Electronic Music.  Chris studied Classical music at Chichester and PG Trinity College London. 
Former Keyboard/Synth and Violin player with Gary Numan Band and Tubeway Army from 1979-1990 on studio and live projects.
Co-writer of the Visage hit 'Fade to Grey'. Various other co-writes for Johnny Warman, Mediaeval Baebes, Dramatis, Kelly Osbourne and Rusty Egan.
Session musician and engineer during the 1980's a few examples are Dramatis, Alan Darby (Van Morrison, Steve Harley), Johnny Warman. (with Jerry Marrota and Tony Levin) Dead or Alive (MD 1985 Youthquake UK tour), Randy Edelman, Rusty Egan, The Hee Bee Gee Bees, Crucible (feat. Hans Zimmer), Attilla the Stockbroker and Sting (an afternoon recording some vocals for him at Gary's studio in Shepperton) 
Film and media music composer from 1985 to present day having written and had published over 600 compositions. Styles include Classical, Choral, Drama, Gothic, Horror, Folk, Celtic, Medieval, Baroque, Electronic, Minimalist and solo piano. 
Specialist in Orchestral and Choral works having composed, orchestrated and conducted in London, Paris, and Prague, and also specialises in electronic, minimalist, and sound design.
Most well known work to date 'Declamation' used in several feature films, adverts, documentaries and as the intro music for Iron Maidens 2003 world tour. 
Solo piano based album called 'Between Betjeman, Bach and Numan' released in March 2012 on Coverdrive records and published by Kassner music.
Formed Celtic Legend in 2001 with two albums recorded 'Tristan and Isolde' and 'Lyonesse' produced by Nigel Bates (Robin Scott, George Michael, Paul Carrack, Stevie Winwood, Peter Gabriel) Heavily featured on Classic FM and CMusic TV
5 tracks of co-written songs on Rusty Egan's Welcome to the Dance Floor CD
Producer and writer of Electronic Circus album 'The Falling Tower'
Producer and co-writer of German singer Katja von Kassel EP 'Walking in West Berlin'
Also working on 'A Flock Ascending' project with Michael J Stewart, who studied under the late Sir John Tavener. 
Producer and writer on TULM EP
Co-producer and engineer of Zak Whitefield album
Film and TV projects with Rusty Egan and Art Bennet.
Music published with Universal, Warner Chappell, PMOL, Kassner and Long Lunch Music.