Chris Wyse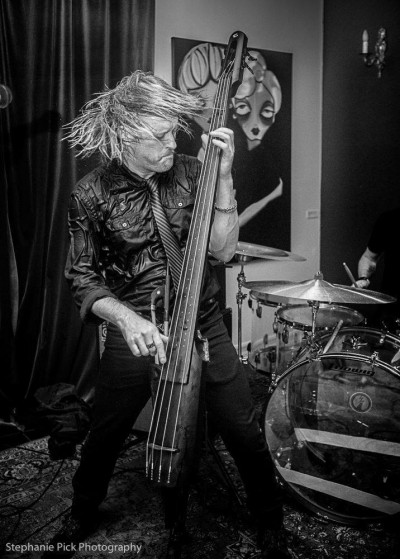 Instrument

NXT4a Upright Bass, NXT4a Omni Bass

Groups

The Hollywood Vampires, Black Owl, The Cult, Owl, Ace Frehley, Ozzy Osbourne

Website
You've definitely heard Chris Wyse's bass playing. It's an inimitable, infectious rumble that has resounded through recordings from the likes of The Cult, Ozzy Osbourne, Mick Jagger, Tal Bachman, and countless others, as well as his own heavy alternative trio, Owl. Utilizing both electric upright bass and bass guitar, Wyse is a versatile, vibrant, vital player whose musicianship is as unique as it is unmistakable.
Born in Queens, NY, Wyse became fascinated with music at an early age. After immersing himself in the Celtic tunes his Irish parents fancied, he discovered Kiss, The Doors, and Led Zeppelin in grade school, and all bets were off. Picking the bass as his instrument of choice after being inspired by Iron Maiden's Steve Harris, Wyse quickly began fashioning a style all his own. In fact, he was even profiled at just 17 years old in Guitar Player Magazine for his innovative approach to the bass.
Relocating to Los Angeles saw him join Tool bassist Paul D'Amour's Lusk as a touring member. After recording with legendary producer Bob Rock (Metallica, Bon Jovi, Mötley Crüe), Wyse's name amongst rock's elite became solidified. A stint with Scott Weiland's Big Blue Missile came next as well as recording with Bob Rock's own outfit The Payolas, Nina Gordon, Tal Bachman and more.
At Rock's suggestion, Wyse cut the staggering bass tracks on The Cult's Beyond Good and Evil in 2001. Receiving unanimous acclaim and notoriety for his work on the record, he moved on to one of his biggest projects to date, recording "Visions of Paradise" for Mick Jagger's Goddess in the Doorway. Soon after, Wyse auditioned to play bass in Metallica, and was featured in the band's documentary Some Kind of Monster in the process.
Meanwhile, Wyse regularly jammed around Los Angeles with the likes of super groups Camp Freddy and Cardboard Vampyres. He joined Alice In Chains guitarist Jerry Cantrell's solo band on bass and backup vocals alongside drummer Mike Bordin (Ozzy Osbourne, Faith No More). Together, they also collaborated on Ozzy Osbourne's Under Cover and the Prince of Darkness box set.
In 2006, The Cult called Wyse back to bass and backup vocal duties, and they unveiled a series of live CDs followed up by the studio effort, Born Into This. He continued with The Cult as a full band member, including the band's 2012 landmark Choice of Weapon. In 2014 Wyse performed as a guest on Ace Frehley's (of KISS) Space Invader album, and continues now with Ace as a full-time band member. Wyse is currently recording with Ace on his new album.
2009 formally introduced the world to rock outfit Owl, which Wyse fronts. With childhood friend and drummer Dan Dinsmore, along with guitarist Jason Achilles Mezilis, Owl dropped their self-titled debut – a swirling epic in its own right. This was followed by The Right Thing in 2013, and Things You Can't See in 2015.  Chris's new project Black Owl is due out late 2020.
Chris is the bassist for rock supergroup The Hollywood Vampires with Aerosmith's Joe Perry, actor Johnny Depp, Buck Johnson, veteran rocker Alice Cooper, Tommy Henriksen and Glen Sobel.