Daniel Pritchett "Dream Upright"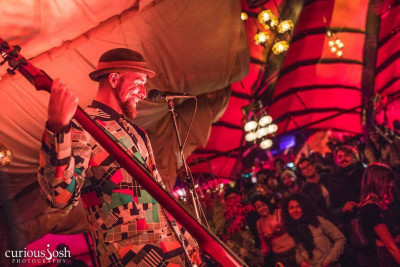 Instrument

CR Upright Bass

Groups

Dream Upright, The Luv Amp Project, Heart Strings Meditation and Sound Baths, Bijoulette

Website
My NS bass is a dream. It allows me the to play in unique and unexpected environments.  It also gives me comfort and peace of mind because I know my tone will always be clear and it won't feedback.

—Daniel Pritchett "Dream Upright"
In the Dream world anything and everything is possible, while in reality we have many limitations. Dream Upright is about creating a surreal live experience that blurs the dream world into our waking life. A place of wonder and imagination is what Dream Upright seeks to create in each unforgettable experience.
Since the age of six Daniel Pritchett has been working professionally in the entertainment industry, starting with several acting appearances on shows and movies. By the age of thirteen Danny jumped gears and dove heart-first into music.  From 1999-2007 he spearheaded several different musical projects. Then, in 2009 Danny began playing the upright bass. He performed with multiple projects and in 2015 developed his own, one-man project; Dream Upright, which incorporates music, magic and comedy. His specialty is in audience interaction and engagement. As Dream Upright, Danny has performed at festivals and multiple venues. He also released his debut EP. Several of these songs were placed on national television with the BET network. Whats next? Dream Upright performed on the main stages at both Lucidity and LIB this year where he will be debuting his newest trick: the flaming upright bass!  He is also in the studio working on a new album expected to drop in late 2018.