Danielle Turano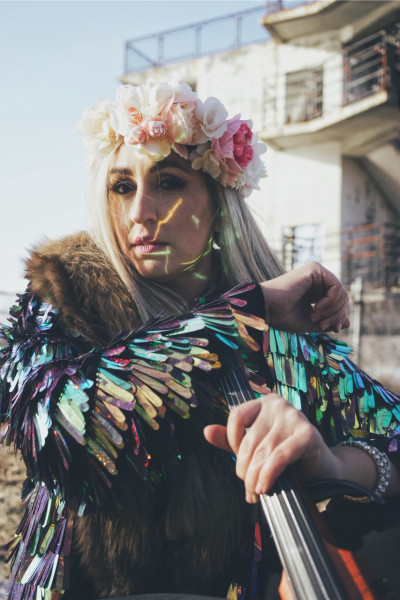 Instrument

CR5 Violin

Groups

Solo Artist, Divina Strings, Scott Bradlee of Post-Modern Jukebox, The Kid Daytona and 6th Sense, Tanya Morgan, Angelo Iossa, Frank Perri, Carte Blanche, Amber Skye, Ben Lindell

Website
Danielle Turano is a New York and Connecticut based performer, artist, and Suzuki Educator. Recently featured in YouTube sensation JacksGap x Skype Documentary which debuted at "Buffer Festival" 2014 in Toronto Canada, called "Following Heart".  Danielle's performances have taken her all over the world to China, Germany, Singapore, Kuwait, Mexico, Switzerland, and Italy as well as renowned venues such as Radio City Music Hall, The Martha Stewart Show, The Highline Ballroom, Rockwood Music Hall, Sleep No More NYC, The Metropolitan Room, The Bushnell, and City Winery. Danielle completed her undergraduate studies Cum Laude from The Hartt School of Music as well as attending seminars and summer programs at The Juilliard School and NYU in New York City and Berklee College of Music in Boston, MA.
Danielle is also a sought-after teacher and clinician around the Connecticut and New York City areas. She has also been an educator, conductor, and Chamber Orchestra coach in Violin, Viola, and Cello for The Newington Public Schools, Farmington Public Schools, Music and Arts of Fairfield Summer Fiddle Camps, YMCA summer sessions and numerous K-12 string programs throughout the United States.  Danielle currently teaches 4- year-olds Suzuki Violin at the Early Head Start Childhood Development Program in Queens, New York, serving and teaching children who would otherwise have little exposure to classical music or access to the violin. She also proudly teaches at The Talent Education Suzuki School in Norwalk, Connecticut with students from ages 3 and up. She also teaches through Skype to students all over the world.
Well versed in many styles, Danielle is a first call in the New York music scene and has recorded violin, viola, and cello and shared the stage and YouTube screen with artists and producers such as Scott Bradlee of Post-Modern Jukebox, The Kid Daytona and 6th Sense, rap group Tanya Morgan,  Angelo Iossa, Frank Perri, Carte Blanche, Amber Skye, Ben Lindell  and Ryan West;  Grammy award winning producers.
Danielle performs classically and acoustically on a circa 1985 Jonathan Van Kouwenhouven violin,  Klause Grunke bow,  and proudly traveling in the new BAM Case in canary, and case cover in Red ( as shown the picture above). Danielle also performs amplified using the NS Design CR5 Electric Violin, along with the Coda Electric Bow.