David Darling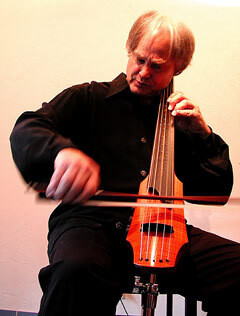 Instrument

CR Cello

Groups

Solo Artist, Paul Winter Consort

Website
David's interest in music revealed itself early. Later, through his study, practice and athleticism, he received scholarships to Indiana State University in both music and tennis. While tennis became a recreation, the cello became his voice.
"What we know about music is that it comes to each individual in a personal way and when our outpouring of singing or grooving is approved of and encouraged great things happen for each individual. All of us succeed when we are surrounded by love."
As a Grammy Award–winning cellist, composer, and collaborator, David Darling has redefined how the cello is played and how music is taught. An innovative improviser, he draws on classical, country, jazz, rock, new age, and world music to create compositions that tap deep into listeners' inner being and through which listeners can bring to life their own stories with new meaning and consciousness. Darling's creative approach centers on deep listening—finding the seed of a musical element on which to build until the composition finds its way into being.
Also informing Darling's work is his deeply held belief that music is for everyone and is an essential creative expression with social and spiritual power. Throughout his long and varied career, which began in 1966, he has inspired thousands through workshops and seminars to explore their musical talents. In 1986 Darling co-founded Music for People, an international nonprofit network dedicated to teaching and fostering music improvisation as a means of creative self-expression.
Darling's recordings and achievements are many from his time with the Paul Winter Consort in 1970's and to his later recordings for the ECM and Hearts of Space Labels. His long time collaborations with producer, Mickey Houlihan and the Wind Over The Earth and Curve Blue labels included projects with writers, dancers and filmmakers. Darling's Prayer for Compassion, was the winner of the 2010 Grammy for Best New Age Album.
Always willing to explore, David collaborated with Musicians, Authors, Dancers and Filmmakers of many different cultures in many different environments.