Derek Menchan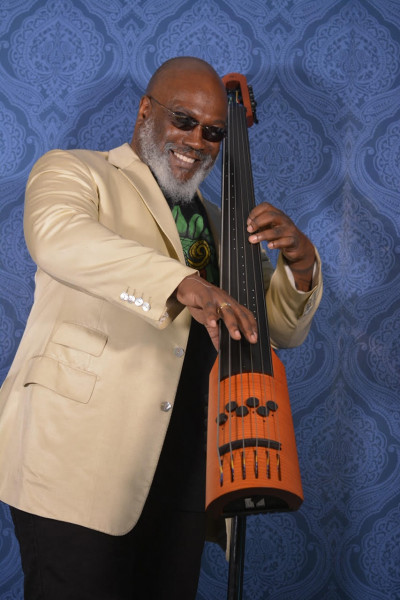 Instrument

EU6 Upright Bass, CR5M Upright Bass, NXT5a Upright Bass

Groups

Solo Artist, Educator, Marty Morell, Mike Dean

Website
I first played an NS bass well over 25 years ago, on a visit to a guitar shop in Florida to do some window-shopping and dreaming. I will never forget the amazing feel—the action of the strings—and, man, I fell in love. I wanted nothing more than to own an NS. So, I am rather ecstatic to own 2 of them now, a CR5M and an EU6 Upright Basses. I name all my instruments based on their personalities and my NS NXT 5 string, Uriel, is the king of subsonics and has a wonderful projecting voice, like a brilliant light that can blow to the 4 corners of any hall.

—Derek Menchan
Inner Phoenix interview with Derek Menchan – Eileen Murphy
Ink 19 interview with Derek Menchan – Stacey Zerin
Polk State College – Beyond the Classroom interview with Derek Menchan
---
Artist Educator Derek "The Professor" Menchan is a concert cellist, bassist, composer, and college instructor of the humanities, philosophy, and music. Having worked with a host of "A listers," including cellists Rostropovich and Janos Starker, guitarist Ed Vitale; Ray Charles, Robert Plant and Jimmy Paige; Stevie Wonder and more, Menchan has carved out quite the niche for himself as a performer and session musician, wielding a rare level of versatility. He is sought after, stateside and abroad, for one or another of his abilities.
"At this time in my life I find myself doing a lot of different yet related things.  About four years ago, I began this annual Summer thing, where I would spend the whole of 3 months doing nothing but projects, my Arts Immersion Summers. I am a visual artist, so I would do a drawing of a famous musician each summer, create some of my own music, do some philosophical research, write some stuff (of late it's been work on memoirs) and write scripts for absurdist film shorts with some buds with whom I have a little collective. It seems like a lot, I guess it is, but I see it as all related."
"The biggest thing for me is, having a full home studio is a must because, at any time of the day, if an idea comes to me—if a get a great tune in my head and I'm at home— I can just walk into my lab, flip a couple switches, and it's up, up, and away. There really isn't anything I can't create with the setup I have."
"My mind fires at a pretty rapid pace all the time, and it doesn't just remain in one idiom, of even in one medium. So, I see all of these activities as feeding, informing, and bouncing off of each other."
Check out Derek's fun and entertaining Youtube channel with many of his  favorite songs featuring Derek on Cello, NS Upright Bass, Keys, Vocals and others. . . . .