Evan Michael Coniglio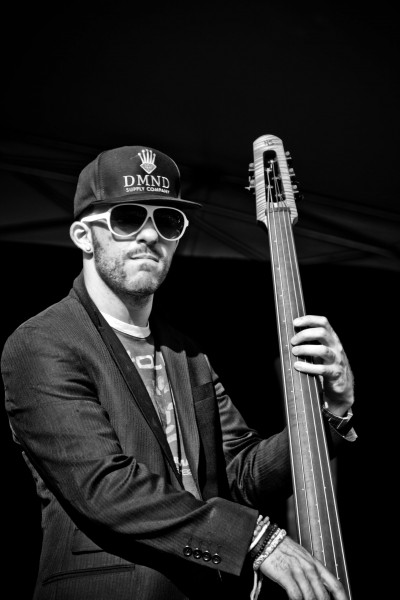 Instrument

CR Double Bass

Groups

Nikki Yanofsky, Biscuits and Gravy, Quincy Jones, Johnny A, Burt Bacharach, Paula Cole

Website
Born and raised in New Jersey, Evan Michael Coniglio was surrounded by music from a young age. His father, Salvatore Coniglio, a talented guitarist dreamed that each of his children would learn a different instrument. After Evan's eldest brother claimed the guitar, Evan reluctantly picked up the bass at the age of 13. At first, Evan was not happy: It was heavy, and it hurt his fingers. But Evan quickly learned to love the power the bass had over the bandstand and after a few lessons, it was clear that the instrument fit him like a glove.
He soon began to perform with high school rock bands, sneaking into local bars and clubs for weekend gigs. A newfound appreciation for upright bass led Evan to start his own trio, sparking a love of R&B and Jazz music that thrives in him to this day. Late in his high school career, he began to set his eye on top music schools, hoping to pursue his craft professionally. He wanted to play with the best, learn from the best and become the best.
In 2007 he was invited to attend Berklee College of Music, an opportunity he would not take for granted. Boston was a whole new world for Evan and he quickly began joining up-and-coming artists for live and studio sessions. His initial efforts paid off in 2009 as he was selected to perform in the American Songbook Concert featuring Burt Bacharach and Grammy award-winning singer Paula Cole.
 Evan graduated from Berklee in 2011 and Evan has split the last several years between studio gigs and touring with renown international acts. Evan has worked as the live and studio bassist for Jazz/Pop vocalist Nikki Yanofsky, the touring bassist for Country singer Nicole Frechette, the bassist and songwriter for R&B group Biscuits & Gravy, and tours with Virtuoso Guitarist Johnny A.
In 2013 Evan worked with executive producer Quincy Jones and recorded a live session documentary at Capitol Records Evan will spend the Summer on an international tour with Nikki Yanofsky.
Throughout 2014-15 He has been the bassist for Johnny A.  Touring Nationally and Internationally with the highly acclaimed guitarist.