Federico Puppi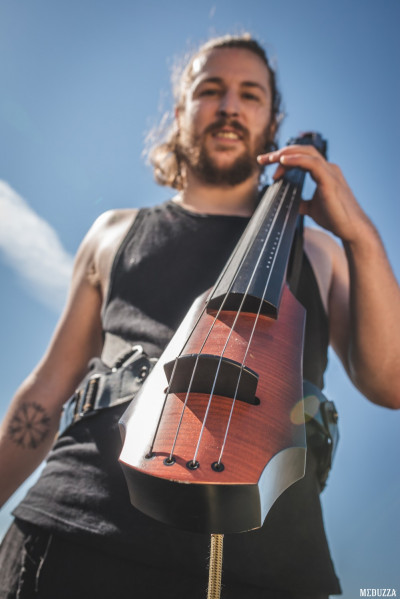 Instrument

NXT4a Cello

Groups

Solo Artist, YAMÍ

Website
Puppi is an Italian cellist, composer and music producer currently based in Rio de Janeiro, Brazil. He is known for his intense live performances, a unique combination of techniques, improvisation and sonority.
Federico Puppi began studying cello through the Suzuki Method at only 4 years old. He then graduated at the Conservatory of Aosta and proceeded to study Modern Music and Jazz at 'L'Aula del Liceu de Barcelona'. During the Umbria Jazz Festival in 2006, he received a scholarship for the 'Berklee College of Music' in Boston, becoming the only Italian cellist to ever receive this award.
In 2012 he moved to Brazil, where he started collaborations with big names in the Brazilian music. He is co-producer of Maria Gadú's album 'Guelã', for which he was nominated at the Grammy Latino 2015 for best album in the MPB (Brazilian Popular Music) category. From 2013 to 2017 he was part of the Brazilian singer's band, with which he performed in all the main theatres and festivals all around the world, such as Montreux Jazz Festival 2015, Barbican Center in London, etc…
In 2015 he launched his first solo album called 'O Canto da Madeira', which has been considered by specialised critic the best instrumental record of 2015 (www.melhoresdamusicabrasileira.com). At the end of 2017, he formed the duo 'Yamì Music' with percussionist Marco Lobo and performed in various national festivals around Brazil.
In 2018 he launched his second album 'Marinheiro de Terra Firme', a project that combines cello, electronic sounds and world music. The album hosts an extraordinary collaboration with Milton Nascimento, one of the most known and recognised songwriters in the history of Brazil.
During his stay in Brazil, he performed with: Gilberto Gil, Ana Carolina, Péricles, Diogo Nogueira, Tiago Iorque.
He recorded with: Sérgio Mendes (nominated for US Grammys in 2014), Jorge Israel, Paula Toller, Roberta Sá, Jony Hooker and Caio Prado.
He is currently on a promotional tour for his second album.