Freddie " BOOM BOOM" Flewelen Jr.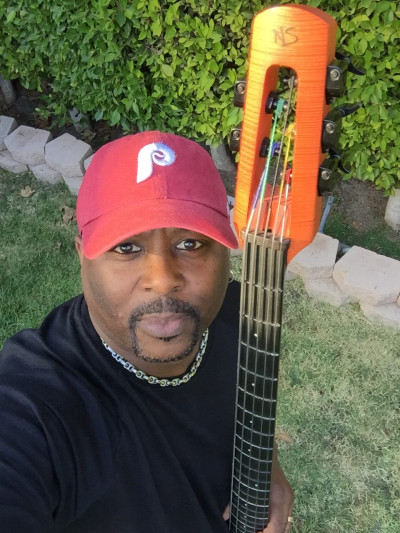 Instrument

CR5F Omni Bass

Groups

Paul Jackson Jr., Doc Powell, The Commodores, The Manhattans, Patti LaBelle, Diana Ross, Natalie Cole, Stephanie Mills, David Benoit, The Al McKay Allstars.

Website
My fretted Omni five string is just what the doctor ordered. It allowed me to quickly go from my five string bass to my upright sound with no long period of practice and adjusting to a new fretless instrument, and oh what a sound it has !

—Freddie " BOOM BOOM" Flewelen Jr.
Born in Los Angeles, California in 1962, Freddie had a love for music at
an early age. His mother, Gloria Flewelen, was one of LA's finest gospel
singers, singing with the likes of REV. JAMES CLEVELAND, The Los Angeles State choir and many other choirs in the city. Gloria even gave her own concerts where Freddie began playing for her in the early to mid 70s .
While his mother worked for local DJ PAUL KIDD JR, of station KDAY in Los Angeles, Freddie helped screen, play, and practice to all new music coming in from record labels and artists all over the country.
Freddie played violin in middle school, then trumpet at Palisades High School, but his first love was the bass guitar.  During that time Freddie continued listening and playing all genres of music.  Upon graduating from high school,  Freddie continued to study music at WEST LOS ANGELES COLLEGE in Los Angeles in the early 80s .
After playing around town and putting in lots of practice time and private lessons,  Freddie started touring with greats such as The EMOTIONS ,Rev James Cleveland, Doc Powell, The MIRICALS, Deniece Williams, The Al Mc Kay Allstars , Paul Jackson Jr and many others . Freddie has also been featured on hundreds of recording's both gospel and R&B & Jazz .
For well over 30 years Freddie has been one of the staff bassist at the WEST ANGELES CHURCH OF GOD IN CHRIST, in Los Angeles, where the BISHOP CHARLES E. BLAKE is pastor. Freddie is a GRAMMY and STELLAR nominated bassist who has worked with a who's who of artists all over the world .
Here are some more of the artist that have enjoyed his leadership and professional input for well over (30) years !