George Price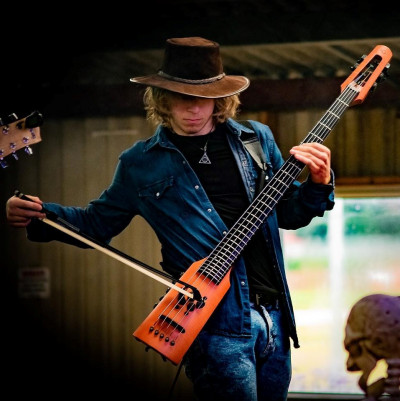 Instrument

CR5F Omni Bass

Groups

Emily Faye, Lyra, The Second Sons, Lethbridge Owen, Aymee Weir, Earl Jackson

Website
The versatility the CR5 Fretted NS Omni Bass offers is extraordinary. The playability, tone, sound, styling, and feel are what makes this instrument stand out. The beauty of the Omni bass is it can fit into any genre, from rock 'n' roll to jazz to R&B and soul, it can do it all and that's why it's a joy to play. The portability of this bass makes it extra special; it's slim, small, and perfect for a double bass gig, making it serious competition for the traditional upright.

—George Price
George started playing the bass at the age of 12. He very quickly landed a job in a local covers band gigging for cash around the local pubs. This continued for a few years during which time he realised he wanted a career in music. At the age of 18, George was accepted into university – the prestigious Tech Music School, London where he studied a music degree specialising in the bass guitar. The course covered a wide range of styles and subjects, from theory to technique to musicianship and was the next stage in learning how to become a top, skilled, active session musician. Since graduating in 2016 he's been very fortunate to tour the UK, play both national and international gigs and festivals and record bass on several albums and EP's. Living in the low end of bass is where he belongs as he loves being a major part of the rhythm section. The spontaneity and challenge of being a session musician is where the fun really starts because he's never sure what job will come up but will always give the project 110%.
As well as being a session player, George also plays regularly for Emily Faye, currently taking the UK country scene by storm. She was delighted to open up the show for Foo Fighters' Chris Shiflett in March 2019 in Brighton for the start of his UK leg of his tour.
Neo-Soul group Lyra, a band getting extensive radio play on both community and national radio stations, is no stranger to George and his NS Omni Bass. Their jazz sounds mixed with electro pop are getting them noticed on the scene and they have plenty of shows lined up throughout the coming year.
George also plays in several rock 'n' roll bands and has been doing since the mid 20's; bands include The Second Sons and The Earl Jackson 4. George recounts one particular gig, a rock 'n' roll cruise with Earl Jackson, where the Omni Bass really came into its own. The audience, used to seeing and hearing a traditional double bass, was intrigued by the size and the capabilities of the NS and, chatting with members of the audience later in the evening, it was clear that punters were 'blown away' both by the appearance and the sound quality of the instrument!
In his spare time, George is also a licensed London Underground busker. Armed with his NS/Stick Bass, he plays original music for the London commuters; this enables him to supplement his income and promote his services as a session player when in downtime between gigs and sessions. It has also resulted in invitations to play at select, private functions as people are drawn to his unique sound and original music.
George's dream of being a successful, working musician is paying off. His calendar is busy and he's continuing to build up a great portfolio. With his skills, attitude and determination he will stop at nothing to keep his career in music thriving.