Jacob Collier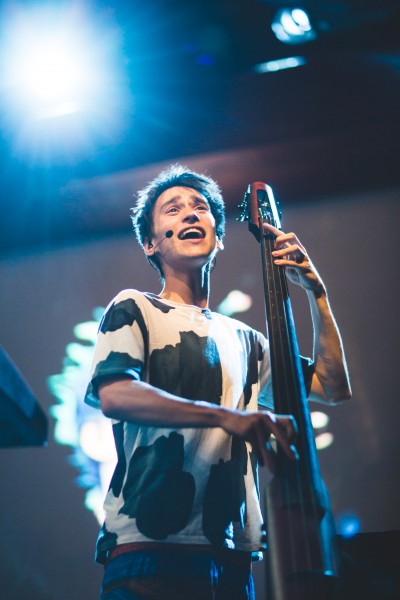 Instrument

NXT Double Bass

Groups

Solo Artist

Website
Jacob Collier is recognized as one of the world's most distinctive, inventive and prodigious young musicians. Based in London, UK, Jacob has been inspired by many sounds – his music combines elements of Jazz, A cappella, Groove, Folk, Trip-hop, Classical music, Brazilian music, Gospel, Soul and Improvisation (to name a few), which culminate to create the world of "Jacob Collier."
Jacob grew up in a family of musicians, and has honed his musical ideas from a very young age. He has embraced the world of the Internet to share his uniquely creative talent, becoming best known for creating his trademark multi-faceted YouTube videos from his music room at home, wherein he sings all the parts, plays all the instruments, and visualises every component with a mosaic of screens. Since his first YouTube upload in December 2011, Jacob's online social channels have garnered over 70K international subscribers and more than 4.7 million views. With viral hits such as his rendition of the Stevie Wonder classic, "Don't You Worry 'Bout A Thing," Collier has garnered a global following, and some of his greatest fans among the elite Jazz community include Quincy Jones, Herbie Hancock, Pat Metheny, Chick Corea, Steve Vai and Take 6, to name a few.
Jacob has spent the last six months collaborating with the Massachusetts Institute of Technology (MIT) in Boston, designing and building a groundbreaking solo live performance vehicle, which brings his one-man, multi-instrumental, multi-visual format of music making to the stage in a way that has never been seen or heard before. Jacob recently debuted this show at the Montreux Jazz Festival, opening for Herbie Hancock and Chick Corea. The Guardian heralded Collier as "jazz music's new messiah" after witnessing the pre-debut run at Ronnie Scott's Jazz Club in London.
Collier is concurrently working on commissioned arrangements for high-calibre orchestras and bands around the world, traveling to give Masterclasses at various schools and universities, and collaborating with many different musicians, including being featured on Snarky Puppy's Family Dinner Vol. 2 and collaborating with Take 6. Jacob was also most recently involved in Beats by Dre's Ruby World Cup "The Game Starts Here" television and online campaign, where Jacob arranged and recorded "Jerusalem" as the soundtrack for their spot. The video on YouTube has garnered over 7.5 million views. Jacob has released several Grammy Award winning self-produced albums and creating viral and educational videos with many of his influences and contemporaries. He looks forward to meeting you, one day.