Jason Yang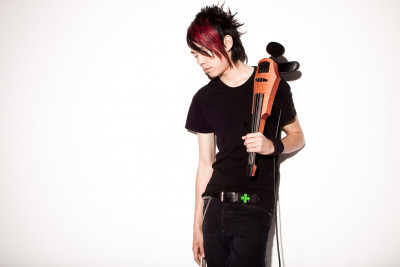 Instrument

CR4 Violin

Groups

Solo Artist, Madonna, Adam Lambert, composer

Website
Jason Yang is a composer and professional violinist based in Los Angeles, California. He is currently scoring films, video games, and creating music for live shows. While he specializes in a wide variety of musical genres, his overall sound can best be described as evocative, powerful, and emotional. He recently finished scoring Speak Easy, B, an artistic short film that is making its way through several festivals this year. His score combined multiple styles of music, including orchestral, ambient, dance, and 1950s big band jazz.
Jason has been collaborating heavily with MAI (Movement Art Is), an organization focused on using movement artistry to inspire change in the world. In 2017, he composed and performed an original piece, called "Honor Thy Mother" with MAI at the annual TED conference in Vancouver, Canada. The performance, which put a spotlight on climate change, was also live-streamed to cinemas around the world. Shortly after, Jason was selected to compose music for director Terrence Malick for a virtual reality film in collaboration with MAI and Facebook. In 2018, he joined MAI's creative team for its first full-length theatrical show, called Love Heals All Wounds, in which Jason assumed the roles of composer, sound designer, and musical director. The show is set to tour this year, with the official world premiere coming in May 2019 in Los Angeles.
Aside from composing, Jason is also a world renowned violinist who is recognized not only for his skills and experience, but also for his versatility and improvisational style. He has performed all over the world with Madonna as her violinist. In 2012, he completed the MDNA World Tour, which consisted of 88 sold-out stadium and arena shows throughout Europe, North America, South America, and the Middle East, and is currently one of the top grossing tours of all time. In 2016, Jason performed again with Madonna and Stevie Wonder at the Billboard Music Awards in tribute to the late Prince.
In 2015, Jason was one of fifteen music innovators invited from around the world by Audi to Verbier, Switzerland to create a manifesto on the futures of music alongside Giorgio Moroder, Jean Michel Jarre, Depeche Mode, and Laurie Anderson.
For several years, Jason has taught a handful of private students both online and in person. In 2016, his innovative methods of teaching over the Internet caught the attention of Cox Communications, who then took Jason on the "Cox Smart Home Tour" around the US, where he presented his use of modern technology and networking for the purposes of music education and entertainment.
Jason is a University of Southern California alumnus with degrees in International Relations and Music Industry. During his time at USC, he also served as Concertmaster of the USC Concert Orchestra.
Born and raised in New Jersey, Jason also enjoys swimming, golfing, and video games when not working on music. His favorite movie of all time is Interstellar, and some of his favorite composers are Joe Hisaishi, John Williams, Hans Zimmer, Tom Holkenborg, and Koji Kondo.