Jenn Cornell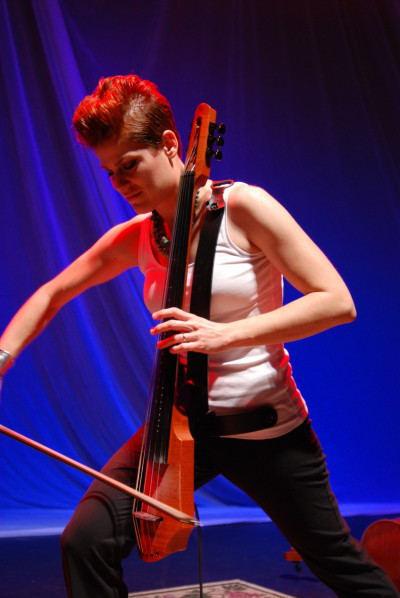 Instrument

CR Cello

Groups

Solo Artist

Website
Jenn Cornell is a performer, composer, and educator taking cello across boundaries with her visionary style of playing, creating songs that stretch what a cello can be, and inspiring young musicians with her mentor approach to teaching. Jenn has had a diverse career as a professional musician beginning at the age 11 when she realized she wanted to play cello for the rest of her life. Since then, she has crossed over from classical into the genre-bending music that she creates today in performance, film scoring, and education of the arts.
Jenn Cornell brings joy to every aspect of her music. She believes that performance is a visual art, as well as auditory, where rhythm and movement become a dance of instrument and body. She is often joined on stage by drummer, Emrah Kotan, who has the skill and fire matching Jenn's high energy and virtuosity to bring an exciting and progressive groove to the music. Jenn Cornell's cello stylings have also lent themselves well to other creatives including double platinum bill-board artist B.o.B.; Michael Malarkey of the hit TV series "Vampire Diaries"; and filmmaker Chris Anthony Hamilton in the original music she composed for his Body and Son.
Jenn performs in many different venues from Performing Arts Centers, Clubs, Schools, Universities, and pre-COVID she held a repeating engagement at the world's busiest airport – Jackson-Hartsfield International Airport in Atlanta which connected her and her music to the world. Now in the times of quarantine, Jenn continues to perform with virtual events such as her Serenbe Institute live Zoom concert and the King Center's Beloved Community Awards events. In addition to performing, Jenn is committed to using music to make the world a better place and takes her music to hospitals and assisted living homes. She also mentors as head of the string and chamber music departments at the Community Music Centers of Atlanta.
Jenn Cornell believes that music has the power to move energy and she continues to use her music to do so in all the ways she can.