Jim Reilly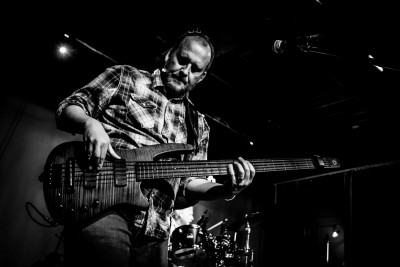 Instrument

CR5 RADIUS Bass Guitar, WAV Upright Bass

Groups

DC and The Struggle

Website
The Radius basses aren't just the evolution of Ned's work, they're the evolution of bass guitar. Trust me – I wrote the book.

—Jim Reilly
Jim took a bit of a circuitous route to the bass. Originally a guitar player, while studying jazz guitar at Malaspina College (now Vancouver Island University) in Nanaimo BC, Canada, he spent his student loan money on a Chapman Stick. Shortly after The Stick arrived, the guitar stopped coming out of its case. Playing Stick led to bass gigs. Exploring that role in the band led to diving wholeheartedly into the bottom end. Once the bass landed in his hands, he'd arrived home.
Never one to put all his eggs in one basket, after studying music, Jim earned a journalism degree and followed that up with a degree in education. For the past 20 years or so, he's been combining those three passions. The thread that weaves through all his endeavors is a common creative element expressing itself through a multitude of means.
Musically, while you can still find Jim playing the occasional solo Stick gig, the majority of his time is spent holding down the low end for Calgary's DC & The Struggle and filling the bass chair on occasion for The Frontiers.
The book mentioned above is Ned's biography and exploration of his work: Steinberger – A Story of Creativity and Design. Jim met Ned through Emmett Chapman while working on Emmett's biography, StickMan. Once StickMan was published, Jim pitched the idea to Ned of a similar book project. A little back and forth resulted in five years of diving deep into Ned's story, musical instrument design, and how that same creative impulse expresses itself through Ned's designs.
"During the process," Jim says, "I played many of Ned's instruments, including some of the very early Steinberger L2 basses. Once I got my hands on the CR5 RADIUS Bass Guitar, all the pieces fell into place. I immediately understood both where he was coming from and where he was going. Needless to say, I didn't send the CR5 RADIUS Bass Guitar back, and it has been my go-to instrument ever since."