John Montalbano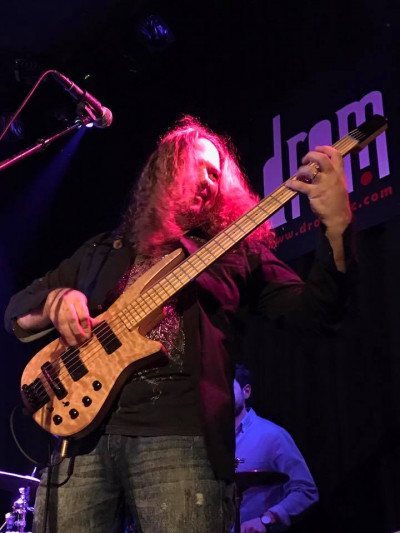 Instrument

US5 RADIUS Bass Guitar, CR5M Double Bass

Groups

My World, Heidi Merrill, TV composer and recording artist.

Website
"The CR5M is the embodiment of the perfect cross between a traditional upright bass and a fretless electric bass. When playing upright bass, sometimes you just crave a bit more sustain and definition. The inherent physical properties of the upright dampen the vibration of the string and it is the job of the chamber of the body to project the sound.  With a fretless electric bass, the sound is more focused but there are limitations due to the shorter scale length of the instrument. The CR5M has the focus of an electric fretless bass but with the scale length of an upright bass which gives you that focused growl but with an immense amount of sustain. I have used my CR5M on countless recordings and performances from hard rock, country, jazz to hip hop. I have also used it to record bowed strings tracks. The combination magnetic/piezo pickups help mold the voice of the instrument to fit any application. Not to mention, without the traveling hassle or maintenance of an upright!"

—John Montalbano
John Montalbano is an Electric and Acoustic Bassist, Songwriter, Composer, Producer and Music Explorer.
"John Montalbano is one of New York City's greatest assets on the music scene. As a bass player, his roots in classic and heavy rock may have set the stage for his music career, but his persistence in studying jazz and classical have made him one of the most sought after players on the scene for multiple genres of music. His approach to the bass is primarily as a songwriter, with an ear for what the music needs to bring it to the next level. He can rip bass solo lines with the best of them, but hitting the soul of the song with the right feel, phrasing and creativity is where it's at! All of this, and a top notch performer in one!"
In the band My World, signed to BMG Records, MY WORLD is a NYC based three-piece indie-rock powerhouse, a cult phenomenon and entertainment industry favorite. Musicianship, songwriting and the crave to entertain have brought them to the forefront of the music scene paving the road for their undeniable track record. They can best be described as a mid-air collision of The Talking Heads, Frank Zappa and The Foo-Fighters crash landing in the middle of a Phish concert…with no casualties, of course. Band members John Montalbano (lead vocals/bass) and Chris Munger (guitars) are in their second decade working together on music endeavors. MY WORLD has just released their second album through BMG called "Domination". Their first BMG album release "All Shapes And Sizes" gained some radio traction with their video/single "Ron" which featured cameo appearances from Brian O'Halloran (Clerks), Mason Reese (child actor), Steve Grillo (Howard Stern) and John Holmstrom (Punk Magazine). MY WORLD has performed all over the United States, with recent 2016 performances at the Joey Ramone Tribute Concert, The Warriors Movie/Music Festival, NYC Fashion Week and the 7 at 7 World Trade Center Concert series. The band will be touring in support of their new release "Domination" in 2017. The album single "Step Back" has appeared on the soundtrack for "Zombies VS. Joe Alien" and on WWE.
John has collaborated and performed with Heidi Merrill, and co-produced her 2016 single "Cornhusker Strong". The song has achieved radio play and is the anthem for the college football team the Nebraska Cornhuskers.
John has written and scored music for many television shows, on-air promos, documentaries and films. Clients include Comedy Central, FOX, VH1, MTV, Fuse, NHL, WWE, Walgreens, Chase, M&M Mars, Bacardi  and many others.
John has performed and/or recorded with the following artists/musicians. Chuck D (Public Enemy), DMC (Run DMC), Gene Cornish (The Rascals), Skunk Baxter (The Doobie Brothers/Steely Dan), Robert Randolph (The Family Band), Hunter Hayes (Country Star), Earl Slick (David Bowie), Jon Paris (Johnny Winter), Victor Delorenzo (Violent Femmes), Mavis Staples (Staples Singers), George Clinton (P-Funk), Kyle Jason (Bootsy Collins).