Ken Ford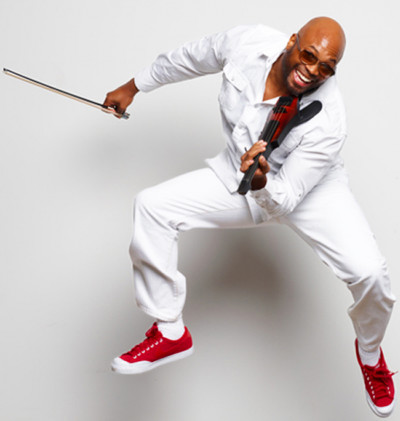 Instrument

NXT Violin

Groups

Solo Artist

Website
Electric. A word that describes not only Ken Ford's violin but aptly describes the man himself, with electrifying and deeply physical live performances that have audiences up on their feet and into the aisles, feeling the music as much as he does, jumping and dancing around on stage. Far from being any quiet instrument, Ken's infectious energy takes the violin center stage with amazing artistry and creativity, rocking out on the violin with a passion and fervor that rivals the biggest and baddest guitar solos.
A wonder to behold on stage, Ken's evocative playing and passion for strings on the electric violin have enthralled fans of all ages, as well as peers from diverse genres, from jazz to blues, R&B to hip-hop and more. With a soul-stirring style that highlights all the voices of the violin, from sensuous and genteel to dramatic and muscular, Ken's talents have earned him the ultimate honor of playing for the First Lady Of The United States, Michelle Obama, and brought him on stage and into the recording studio with a range of superstar artists including Bruno Mars, Jill Scott, Wyclef Jean, Chaka Khan, Ledisi, Brian Culbertson, the late Barry White, Cee-Lo Green, Erykah Badu and more. Promising to take fans to a whole other level on this fifth album, Eleven, with a new edge and energy, Ken plants the seed for any music lover to discover violin on a whole new journey.
Growing up in a home filled with the diverse sounds of jazz, blues, and R&B, from the records his dad spun as a DJ to hearing the sounds of Earth, Wind & Fire and other acts in concert, Ken was born in St. Louis, MO and lived in Detroit, MI before his parents settled in Atlanta, GA. His parents recognized a special gift in their only child one night when they overheard him at a party, playing along with an Al Green song note for note on a toy keyboard – long before his first music lesson! From that point on, they kept an instrument in his hands but he never had a formal lesson until he settled on violin at age nine, picking violin in class to be different from his peers.
With a great curiosity for music, Ken's connection with the violin was cemented upon hearing his dad's Noel Pointer album in elementary school, with the celebrated jazz violinist being his first and most important influence. Hearing Pointer's cover of Stevie Wonder's "Superwoman (Where Were You When I Needed You)", Ken says, "He was the first music I heard that I realized you can do something different on violin besides classical". In his classical training, Ken became a founding member of the DeKalb Youth Pops Orchestra, and joined the African American Philharmonic Orchestra (AAPO), where he had the rare opportunity of performing for the late, great Barry White and worked his way to the honored position of Concert Master. During his school years, he also trained himself to play by ear the popular music on the radio, which marked a turn-around with kids jamming to his performances instead of teasing him for studying violin.
Early in his career, Ken followed his passion for violin but lived a dual life, working as an IT programmer while honing and indulging his love of music at night, bringing his violin everywhere to jam at some of Atlanta's hottest jazz spots. From his first CD, Burnt Toast to Chevelle Lane, Right Now, State of Mind and his latest release, Eleven, Ken's exhilarating performances have left music lovers awestruck, with some of his most memorable accolades including standing ovations from over 20,000 people at the Sea Breeze Jazz Festival, Mallorca Smooth Jazz Festival, Capital Jazz Festival and many others; being the first opening artist to ever get a standing ovation at the Omaha Riverfront Jazz Festival and first repeat artist on the same festival; receiving at least three proclamations (Ken Ford Holidays) from three cities in GA, and more.
"Living in the present moment" as a constant frame of mind, Ken's steadfast passion for violin and popular music has brought him from childhood to where he is today, indulging his passion for violin full- time before worldwide audiences, firing up everyone from kids to seniors to change their mind about the violin, and embrace the power of music.