Kendall Ramseur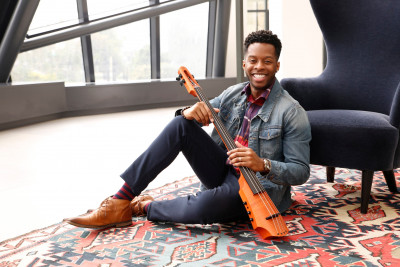 Instrument

CR4 Cello

Groups

Solo Artist, Sons of Serendip

Website
I am really honored and excited to be a part of the NS Design family. The craftsmanship put into their instruments is amazing, and I'm excited to be able to add my musical voice to their ensemble of amazing artists. I chose NS Design because the unique sound and mobility these instruments offer is exceptional.  Being a classically trained cellist, I had only known playing the cello while sitting, but as I've grown as a recording artist and performer, I found myself desiring more freedom than what the traditional cello could offer in sound and mobility.  The NS Design CR4 Electric Cello was a perfect match; it can be played sitting, standing, or even while walking around.  It gives me a lot more freedom for expression in live shows and in the studio.

—Kendall Ramseur
Kendall Ramseur, a native of Charlotte, North Carolina, embarked on his musical journey at a young age, beginning with the piano at seven and discovering the cello at ten.
Today, Kendall is the CEO of KYOM Productions LLC, a prominent music production company dedicated to creating exceptional soundtracks for diverse media forms, including film, television, podcasts, and more. With a passion for composing, he has lent his talents to Netflix trailers and a wide range of media projects, showcasing his versatility and expertise.
As a founding and former member of the renowned quartet Sons of Serendip, Kendall has made an indelible mark on the music industry. This talented group gained nationwide recognition during Season 9 of NBC's America's Got Talent, propelling them to the top of the Billboard charts. Together, they have performed alongside prestigious orchestras such as the Boston Symphony Orchestra and the Cincinnati Symphony Orchestra, captivating audiences with their mesmerizing performances. Sons of Serendip were honored to represent the United States in the Arts category at the Dubai World Expo 2020 in 2022, sharing the stage with notable artists including John Legend, Cynthia Erivo, Train, and more. Their captivating performances have graced prestigious events including the Creative Arts Emmy Awards and the after-party of Oprah's 2020 Vision Tour, leaving audiences in awe of their musical prowess.
Kendall's solo career has flourished as well, with the release of his debut solo cello album, "Selah," in 2020, followed by his enchanting single, "Noël." His music provides solace and comfort during challenging times, touching the hearts of listeners around the world. Recognized as the Gospel/Inspirational Artist of the Year by the Boston Music Awards, Kendall has had the honor of performing at Maya Angelou's private residence for her 80th birthday celebration and as a principal cellist in the Grammy Award Orchestra. His original compositions have graced stages across the United States, earning him praise as one of the must-see artists at the First Night Boston celebrations, according to the Boston Globe. A personal highlight for Kendall was soloing with the Cincinnati Symphony Orchestra, realizing a long-cherished dream as he performed the Vivaldi Double Cello Concerto III Mvmt.
Currently, Kendall Ramseur dedicates himself as an active full-time composer, recording artist, and performer. His unwavering belief in the healing power of music fuels his passion to bring comfort and solace to those in need. With gratitude for his extraordinary talent, Kendall continues to inspire and uplift audiences through his captivating melodies and heartfelt performances.​