Kersten Stevens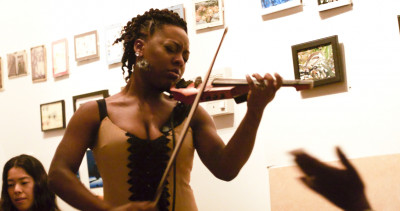 Instrument

CR Violin

Groups

Solo Artist

Website
Emerging from an accomplished classical foundation, Stevens has fostered a unique improvisational freedom that wows music enthusiasts!
A catalyst for playing "outside" through risky music design, her performances are stimulating, high-energy, and inventive. Astonishing audiences with meticulous dexterity and beauty of expression, she creates an engaging interactive experience that leave listeners wanting more.
Stevens leads a growing breed of performers who are innovating music with artistic sensitivity and reverence for authentic musicianship. Critics laud her performances for technical brilliance and expansive musicality: "Breathtaking pyrotechnics that burst with pure joy" says All About Jazz. "Imagine if jazz master Jean-Luc Ponty's violin were suddenly possessed by the spirit of Marion Williams, and you have some sense of what Stevens can do. She is a gift to music," hails The Black Gospel Blog.
Stevens has performed before esteemed notables such as President Barack Obama, Ray Charles and Denzel Washington as well as with music greats Kim Burrell and her mentor, renowned jazz violinist Regina Carter.
The one to watch, Stevens has earned several distinguished awards. She is a six-time winner of the historic Amateur Night and Showtime at The Apollo and has been honored for music excellence by her alma mater Yale University, the NAACP, Hal Jackson's Talented Teens, The Greater Bridgeport Symphony Youth Orchestra and more. As well, she has received multiple album recognitions.
Stevens newest single, "Faith's Hymn (Amazing Grace Remix)" is a special collaboration with Beautiful Chorus that adds Kersten's signature sound to one of the wellness industry's most popular anthems! Her pivotal fourth album release "INSPIRE ME" is a vibrant collection of original and traditional worship songs performed with a satiating palette of jazz design. Following rave reviews and a successful national tour, the project received the Christian Contemporary/ Gospel Album of the Year nomination by the Independent Music Awards.
Beyond her successful music career, Stevens is a highly sought after digital media strategist, serving the world famous Apollo Theater, among a diverse roster of non-profit and faith-based clients. Most recently, she has produced livestream, digital broadcasts featuring EGOT John Legend, Gospel Legend Donald Lawrence, Emmy-Award winning director Roger Ross Williams, Grammy-Award winning band leader Christian McBride, Avery Sunshine and more!
A colorful palette of musical innovation; Kersten Stevens is a revival for the music soul!