Kotaro Saito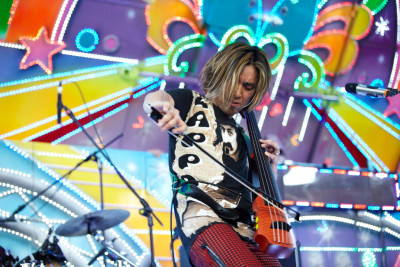 Instrument

CR6 Cello

Groups

Solo Artist, Jamon, Chicken George, BLOID, Torus, and Ensembloid

Website
Kotaro Saito is a revered and inventive cellist, composer, arranger and programmer based in Japan.
Born in Sapporo, Hokkaido and raised in Shonan, he graduated from Nihon University College of Art and is a representative of the Sai Music School.
Kotaro presided over the art project "JOMON MUSIC OF the EARTH" and has worked with Ringo Sheena, Angela Aki, Jazztronik, Crazy Ken Band, Yuzu, Kumi Koda, Crystal Kay, DIE (ex.hide with Spread Beaver), U-ya Asaoka (ex.FIELD OF cVIEW), Naomi Tamura, ACE (ex. Ⅱ), Shunsuke Ishikawa (Sacred Hunger II), ROLLY (Skanchi), Obata Pump (Skanchi), defspiral, Toru Soru, Tatsuhiko Wasada (Bomb Slump), Haruo Togashi, among many others.   He performed and recorded with the late Bunmei Ogawa and was active for many years in a duo called "Buntaro" as well as participating in Keiko Matsui's 2015 Japan Tour, the 17th Cocoon Kabuki with a cello improvisation and co-starred with the late Kansaburo Nakamura's broadcast on WOWOW.
Kotaro has taught cello to actors in the 81st Academy Award for Best Foreign Language Film "Departures" and the Taiwanese drama "Ryukei Danten / Chocolat", Kotaro tutored leading actor Masami Nagasawa.
In addition, KOHAK's "Zipangu" is used as an insert song. (* Withdrew from KOHAK in 2016) In 2015, he was appointed as the official Najomon "Najomon. Jomon Goodwill Ambassador" in Tsunan, Niigata.
Kotaro names Frank Zappa and Mitsuharu Misawa as creative influences.