Louis Ochoa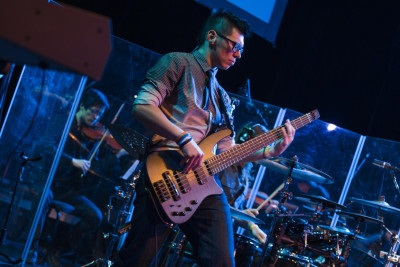 Instrument

CR RADIUS Bass Guitar, NXT Double Bass

Groups

Video Game Orchestra - VGO, Jamie Lynn Hart, Project O.N.S.

Website
With over twenty years of collective music education and performing in the biggest venues all over the world, Louis Ochoa has established himself as a professional bass player that can move effortlessly between genres and styles while maintaining a dynamic performance on stage and in the studio.
Growing up in the Philippines, Louis Ochoa's early music influences stemmed from grunge and heavy metal; including Metallica, Testament, Slayer, Red Hot Chili Peppers, and Pearl Jam; and later on became more exposed to more virtuosic bass players, such as Robert Trujillo, Billy Sheehan, Geddy Lee, and Jaco Pastorious.
Following his move to New York in 1998, he studied privately with Keith Carrol and took classes at the Bass Collective and at the New School for Music. Louis Ochoa then became a recipient of the Berklee Entering Student Talent (B.E.S.T.) Scholarship and completed his studies with a Major in Performance.
Since moving to Boston, Louis Ochoa has performed on stage and in the studio with countless talented artists and songwriters and is the on-call studio bass player for the Songwriting Department at the prestigious Berklee College of Music. His most recent collaborations include the John Hanifin Band (NS Designs artist and CMJ 2014 featured artist), Jamie Lynn Hart (CBS Boston's Best Local Female Musician, Limelight Music Award Winner for Best Female Performer & Best Songwriter), and LoVeSeXy a tribute to the music of Prince.
Louis Ochoa is also the bass player for the Video Game Orchestra, the world's first rockestral band that blends the energy of a 12-piece rock band with the elegance of a full orchestra and choir. Past performances have been at the Berklee Performance Center, Boston Symphony Hall, and the Taipei International Convention Center in Taiwan and they've been featured performers at prestigious conventions such as Pax Prime in Seattle, PAX East in Boston, and MAGFest in Washington, DC. He is also featured in critically acclaimed video game soundtracks such as Kingdom Hearts 2.5 HD Remix and Final Fantasy XV.
Louis Ochoa also leads a three-person collective called Project O.N.S. that brings the energy of drum & bass and combines it with the textures and complexities of fusion & jazz. Their debut album, Standard Pleasure Model, was recorded with top producer/engineer Benny Grotto (2010 Boston Music Award for Producer of the Year).