Markus Fahrenberger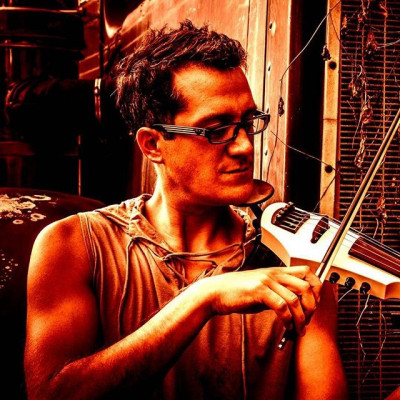 Instrument

CR5 Violin

Groups

Markus Mars, Son of Mars, FATMAGIC

Website
Standing at the edge of a vast volcano deep within the jungle wilderness of an isolated Pacific Island, Son of Mars surrenders all that has been created in his human form as a sacrifice to the primordial beings of old. Rising as a phoenix from the ashes of this offering are sounds that have awakened his ancient alien intelligence discharging him to the furthest reaches of the cosmos. There among the far flung stars and planets of the outer galaxies, sounds are harvested and prepared for transmission via various earthly musical communication devices such as the electric violin, didgeridoo, and synthesizer. From these agents an electronic symphony emerges activating an inner life force that invites all who come into contact with it to be an observer of the human condition.
Utilizing the planetary distribution networks of Australian label Merkaba Music, Interdimensional ​ the new album by Son of Mars, broadcasts this space to earth music to the peoples inhabiting our global societies. In creating these extraterrestrial sonic combinations Son of Mars was influenced by the ​chilled out aural frequencies of H.U.V.A. Network, the world fusion beats of Kalya Scintilla and combined them with the ambient sound designs of Trentemoller to create music that resonates along the vibrational spectrum of Steve Reichian minimalism. These sublunary classifications call on all earthlings to unite, to show fairness through awareness, to think things through and to experience that we are all one.
Stand by for delivery of this musical testimony throughout all international global networks. Bring your individual spirits to this gathering of the masses in which we collectively depend on each other and subsequently thrive in all directions. Be the light, be the dark, be the good, be the bad. Be everything and join Son of Mars, Space to Earth Music.