Pascal Roggen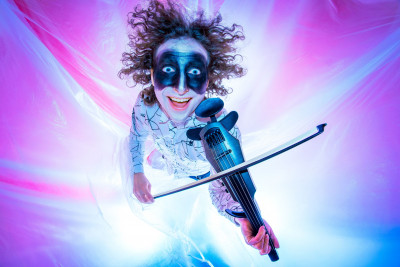 Instrument

CR5 Violin

Groups

Albi and the Wolves The Shez Raja Collective Miho's Jazz Orchestra The Sweet Mix Kids

Website
I've played on a variety of different electric violins but my NS was the first that just sounded fantastic right out of the case. It's also great for stage work without a scroll and pegs to get knocked and a shoulder rest that won't fall off.

—Pascal Roggen
Pascal Roggen started violin when he was three and performed on his first international tour when he was eight. It's been pretty non-stop since then.
He studies classical music, has a Masters Degree in Jazz from the Guildhall School of Music in London and studied in Cuba.
Pascal has had multiple T.V. and radio appearances in the U.K., France and Australasia including performing in the Xfactor band in London.
He has toured the US, Europe, South East Asia and Australasia with a variety of different Folk, rock and world music groups from Ladino to Celtic to Swiss and Cuban, including performing at festivals such as WOMAD, Glastonbury and the Woodford Folk Festival.
Pascal has recently won the Tui Award [New Zealand Grammy] for best folk artist of the year with his band Albi and the Wolves. They tour and perform at festivals around New Zealand and Australia very regularly.
He's a member of the Shez Raja Collective, an Indo jazz funk fusion outfit based in London. He's headlined festivals in Europe, the U.K., New Zealand and Russia with them. He's also worked and recorded with such luminaries as Mike stern, Randy Brecker and John Etheridge.
Working with Miho's Jazz Orchestra, a New Zealand based J-pop/Cubano/Jazz outfit he has toured Japan and Australasia on numerous occasions and regularly post in New Zealands top 20 Album Charts.
Pascal has performed with many DJs in clubs from Ibiza to London, the U.S. to New Zealand. He recently opened and closed New Zealand's largest fashion show working with DJs The Sweet Mix Kids.