Suraaj Parab "BasSuraaj"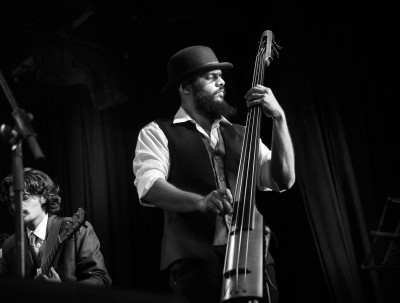 Instrument

NXT4 Upright Bass

Groups

Sandeep Thakur, DAWgeek, Studio Unplugged, Sandeep Kulkarni, The Kheyaal-E-Jazz Projekt

Website
If you are looking for EUB's which sounds like Acoustic Upright Bass, NS EUB's are the best choice. 

—Suraaj Parab
Suraaj Parab aka BasSuraaj is a Bassist from Mumbai. His musical journey started in 2005 after he saw his Uncle playing some chords on the Guitar. He was immediately hooked on to the sound that it inspired him to learn different styles and genres of Guitar playing. In a matter of time Suraaj was so focused on the Guitar that he had to skip one year of high school education to appear for the Trinity School of London Grade 8 Plectrum Guitar examination.
During this process, he discovered his love for the Bass Guitar and so he started playing Bass in 2013. He learnt his Bass playing and music theory under the guidance of the legendary Bassist Karl Peters and Guitar virtuoso Sanjay Divecha.
Suraaj is now a freelance Upright and Electric Bass player and is a professional musician in Indian Music industry. He has had the pleasure of sharing the stage with some of the best musicians in India like Suraaj Sathe, Karl Peters, Shailaja Subramanium, Sandeep Thakur, Finix Ramdas and many more. He has also won a poll for his "groovy" Bass playing.
An excellent performer in both live and studio situations who enjoys laying down a solid foundation for a song to be built on. Skilled in the Electric and Upright Bass with the musical sensitivity to know how to hold the low end/groove of a song to gain the best results.
In a span of 3 years he has been touring and performing with numerous artists and groups covering many genres in a wide variety of venues and music festivals across the country. His contribution on a variety of projects can be heard throughout the day on channels like Being Indian Music, Zee Marathi and Radio channels.
Suraaj has been working with music producers and directors in the studio as a session Bass player. He has recorded over singles, TV commercials, jingles, radio advertisements in various languages. He has tracked his Upright Bass for various title tracks for Zee Marathi serials.