Ulrich Maiss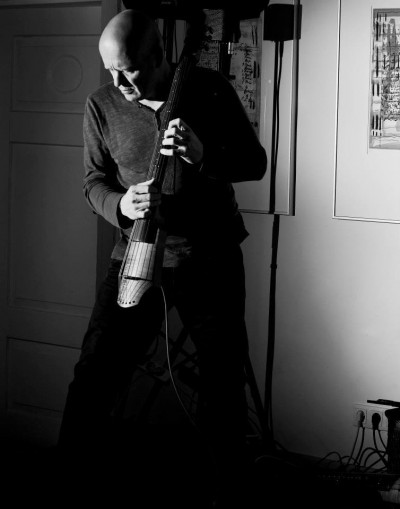 Instrument

CR Cello, CR Omni Bass

Groups

Lou Reed, Zülfü Livaneli, Joseph "Butch" Rovan, ChillFactor 5, Lynn Miles, Alexander Veljanov, Theodor Franck and Element Of Crime

Website
I play Ned Steinberger's instruments since about five years. My first instrument was the NS CR6 Electric Cello – what an amazing instrument that is! As cellist I was glued to a chair for three decades; now, finally, I am able to move about on stage. The NS CR6 Electric Cello is so versatile that I can realize anything between Bach and Metallica. I actually use the NS CR6 Electric Cello for my interpretation of Bach's Suit No VI, which originally was composed for a cello with an additional e-string. A very rewarding is the combination of the instrument with my VOX ToneLab. Whole as yet unrealized sound-worlds open up… The NS Omni Bass absolutely surpassed my expectations. The low end is fantastic, and bowed it sounds beautifully rich. I always had a thing for the role of a bass player in a band – now I can switch at will. My absolute favorite: ebowed passages on the NS Omni Bass.

—Ulrich Maiss
Ulrich Maiss aka Cellectric is a sound designer, experimental musician and yet also masters a classical repertoire.
He completed his studies in classical music, majoring in the cello, at the Berlin University of the Arts in 1993. An international career as a performer of contemporary and classical chamber music followed, taking him through Western Europe, North America and Japan.
Maiss has played world premieres by well-known composers such as Joseph Butch Rovan, Mario Bertoncini, Kasper T. Toeplitz, Ulrich Krieger, Phill Niblock and Gerald Hummel.
Live and in the studio he has worked with Lou Reed, Al Di Meola, Zülfü Livaneli, Element Of Crime and Markus Stockhausen. He was a member of bands and ensembles such as envyloop, zeitkratzer, Kammerakademie Potsdam, Ensemble Oriol, ZsaZsa Buschkow, Berlin Improvising Composers Ensemble and Boris Blacher Ensemble.
In 2011, Ulrich Maiss worked at the Berliner Ensemble with Lou Reed, Hal Willner and Robert Wilson on Wilson's version of LULU. Lou Reed and Metallica's eponymous album is based on the music used in the stage production.
Ulrich Maiss' compositions and sound design installations have premiered in Germany, the USA, Canada and at the Venice Biennale.
Ulrich Maiss was born in Dusseldorf in 1967. He has been living and working in Schwerin since 2018.