Zoltán Lantos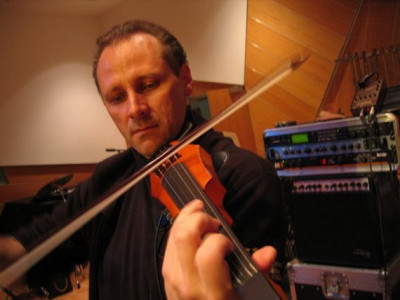 Instrument

CR Violin

Groups

Violectrik, Mirrorworld Quartet, Steve Coleman and Five Elements, Charlie Mariano, Dave Liebman, Lars Danielsson, Dhafer Youssef, Markus Stockhausen

Website
Zoltán Lantos is a violinist who is at home in musical cultures from across the globe — but has forged a sonic language all his own.
He appeared on the Eastern-European jazz scene while studying at the Music Academy in his hometown, Budapest. But shortly after earning his degree in classical violin, Lantos embarked on a remarkable musical journey. Drawn to experimental and eastern music, he traveled to India in 1985 to study classical Indian music. There, the "biology" of a single note — the life of the inner, unheard and unplayed sound ("Anahata Swara") is of the utmost importance. In India he discovered what became the focal point of his musical life: the experience of existing in a living moment, the art of improvisation.
In 1994, after 9 years of studying, traveling, teaching, and performing in India, Lantos returned to Europe. Composing new pieces he began rediscovering his musical roots and found his own language by blending Hungarian and classical traditions with Eastern music and contemporary European jazz.Over the years Lantos' musical voyage has brought him together with many great musicians on stage and in the studio. He has been working and recording with various artists like Ferenc Snétberger, Kornél Horváth, László Dés, Márta Sebestyén, Mihály Dresch, Gábor Juhász, Zsolt Kaltenecker from his native Hungary as well as Charlie Mariano, Dhafer Youssef, Palle Mikkelborg, Ramesh Shotham, Nicolas Simion, Renaud Garcia-Fons, Rabih Abou-Khalil, Urna Chahartugchi and many others. On stage he performed or toured with such as Loreena McKennitt, Al DiMeola, Larry Corryell, Didier Lockwood, Paolo Fresu, Renaud Garcia-Fons, Steve Coleman, George Brooks, Trilok Gurtu, Nils Petter Molvaer and Eivind Aarset.
Lantos' main project since 1999 was the group "Mirrorworld" and his current project "OpenSource" (founded in 2011) is taking a more electronic, loop- and groove-oriented direction. After some changes of the lineup the new band — with Áron Tálas on keyboards, Tibor Fonay on bass, László Csízi on drums and the DJ Andrew J — gave it's first concert in november 2012 at MÜPA (Palace of Arts) in Budapest with the Norwegian trumpeter Nils Petter Molvaer and electric guitarist Eivind Aarset, as well as Hungarian guest singers Veronika Harcsa, Kátya Tompos and the percussionist Kornél Horváth.
He also plays solo violin concerts using electronic devices for creating multiple loops and special effects.
With his group, as well as a guest artist of Nicolas Simion's "Transylvanian Jazz" project or with the World Music group of the Mongolian singer Urna he has been invited to several international Jazz- and World music festivals across Europe and several other countries like India, China, Taiwan, Singapore, Thailand, Mongolia, Mexico and the US. Recently he teemed up with percussion whizz Kornél Horváth in duo and various other formations including live electronic artists. He also composes for theatre and dance.
Lantos recorded several albums in his homeland and also participated on many others all over the world. His first Mirrorworld album "Tiptoe Ceremony" became "Hungarian Jazz Album of the year" in 2003, and the next one entitled "Tau" was nominated as well for the same award in 2008. The first album of the Zoltán Lantos' OpenSource is scheduled for 2013.
Zoltán Lantos plays a 5 string violin built by László Gáspár, a custom-built 5+16 sympathetic string violin (Tarangini) created by Ricardo Margarit and 5 string electric violin by NS Design.
He received the "Artisjus" prize in 2006 and the "Golden Cross of Merit" medal by the Hungarian Government in 2008.