Patrice Jackson-Tilghman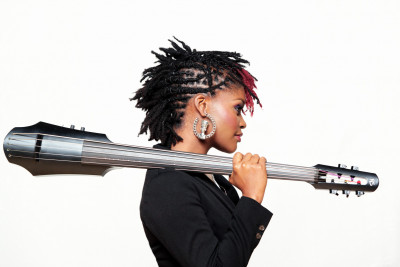 Instrument

NXT Cello

Groups

Solo Artist, Sisterhood of Strings

Website
The brilliant and gifted young cellist Patrice Jackson is carving a name for herself as a gifted and charismatic young soloist. The Detroit News has described her as a "big-toned, boldly projected soloist" and the Hartford Courant stated that Ms. Jackson "wowed the audience with effortless facility, playful phrasing and a sense of spontaneity that one hears usually only from the highest caliber of musicians." A native of St. Louis, Ms. Jackson began piano lessons with her mother at the age of three and cello lessons with her father at the age of eight. At thirteen she made her debut with the Belleville Philharmonic Orchestra, performing the Elgar Cello Concerto.
In 2002 Ms. Jackson was awarded first place in the Senior Laureate Division of the nationally renowned Sphinx Competition, and was the recipient of the 2002 Yale University Aldo Parisot Prize awarded to a "gifted cellist who shows promise for a concert career."
Since then she has performed with the Atlanta, Detroit, Dallas, New Jersey, Milwaukee, Omaha, Cincinnati, St. Louis, Grand Rapids, Nashville, Hartford, Chautauqua, Colorado and Mississippi Symphonies, as well as with the Philadelphia Orchestra.
Ms. Jackson also made her international orchestral and recital debuts in South Africa in 2002. Highlights of the 2010-2011 season included performances with the Saint Louis Symphony Orchestra and the Chicago Sinfonietta.
Ms. Jackson has won numerous competitions and awards throughout her career, including the Alton Symphony Orchestra / Merie Stillwell Solo Competition, University City Symphony Orchestra Young Artist Competition, Laclede String Quartet Solo Competition, and Laclede String Quartet Chamber Music Competition.
She has spent several summers studying chamber and solo repertoire at the prestigious Quartet Program, the Kneisel Hall Chamber Music Festival, and at the Banff Center for the Arts.
Ms. Jackson has taken master classes with world-renowned Brazilian cellist Aldo Parisot, and has studied chamber music with Claude Frank and the Tokyo String Quartet at the Yale School of Music, as well as with the Juilliard String Quartet at the Juilliard School.
Ms. Jackson, who performs on an Alberto Blanchi cello generously donated by Franklin and Tresa McCallie of Kirkwood, Missouri and Doris Taylor Cope of Chattanooga, Tennessee, has been a student of Janos Starker, Aldo Parisot, Joel Krosnick, and Bonnie Hampton. She is a graduate of the Juilliard School in New York and the Yale School of Music in New Haven.