Quintin Berry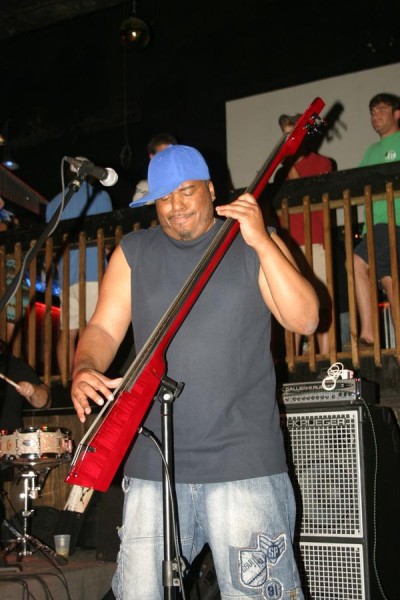 Instrument

NXT Double Bass

Groups

Solo Artist, Ugli Stik

Website
Quintin Berry, a bassist, singer and songwriter with a rich eclectic sound and unique style, has been performing since the age of twelve.  His natural talent and tenacity for perfection has brought high energy and strong rhythms to many bands; such as, Mike Latham Band, Plastic Eddie, Q Bass, and currently The Ugli Stick.  Q, as his friends call him, is always looking to experience a new musical challenge or genre.  Over the years he has played with national artist Percy Sledge, Peabo Bryson, The Tams, Cornilus Brothers and Jaco Pastorius.  He has opened shows for Cameo, Flock of Seagulls, War, Joan Jet, Blondie , Colin Hay, Rehab, Keshia Kole, One Republic and many others.  Quintin co-wrote two songs with Jack Knight, who writes for Puff Daddy.  The songs were released on the cd titled "Gypsy Blues" on June 1st, 1999 by Universal Labels.  Q also enjoys working as a studio musician developing local and international jingles for major studios, as well as, bass line for other musicians.  In 2004 he composed music for a commercial boat promotion and in 2009 he wrote music for the tv show, Drag Race High. He plans to expand further into movie scores.
Quntin's abilities have not gone unnoticed in local and national music publications. Q was named local Bass Player of the Year in 2000 and 2001 by "Nine Volt Magazine." "Bass Player" praised Q's unusual underhanded technique, catchy finger style and funky sound." In October 1997, the Indie City Column touted the smooth sounds on Berry's 1st cd, "Top of My Head," which was also given glowing reviews in "Bass Frontiers."  Quintin was featured again in the February 2004 issue of "Bass Player."  In the article titled, Upside-Down Funk, the author noted the large crowds that Q draws with his "pyrotechnic solo funk showcases" at the NAMM-shows where he represent Spector Basses. Also, "Korg Proview" in the 2003 winter edition reviewed Q's use of the PX4B.
Individual style and magnetic personality have earned Q endorsements from major companies, such as; Spector Basses, Aurora strings, Sennheiser, GK amps, EMG, Source Audio, Access Bags, Korg USA, ESP, and Presonus. During frequent trips to NAMM Trade Shows Quintin has enjoyed playing at sponsors booths, and jamming with and meeting fellow artists. His greatest honors have been; being invited to play for our Armed Forces overseas, being invited to share his style and technique with other bass players both young and old, veteran and inexperienced, at the Victor Wooten Bass and Nature Camp and major music schools.  What an artistically enlightening and spiritually uplifting experience.
Q's interest in many genre of music makes him a versatile writer, performer and teacher.  Quintin's plans for the future include; bass clinics, solo albums, and continued live performances with the Ugli Stick.