Rick Marcel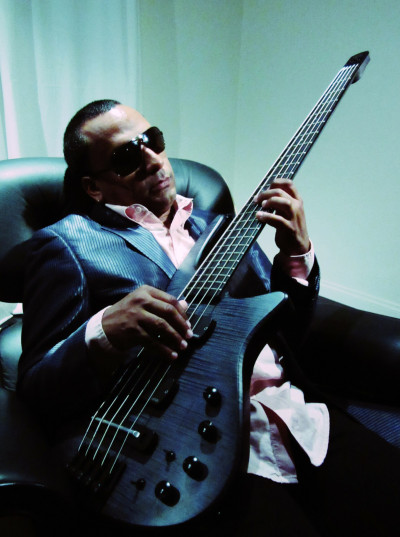 Instrument

CR5 RADIUS Bass Guitar, NXT4 Upright Bass

Groups

Kool and the Gang, New Power Generation/ Prince, 'Lil Wayne, Isley Brothers, Deniece Williams and Solo Artist

Website
The NS CR5 RADIUS bass guitar has to be one of the most solid basses adn it always stays consistent live and in the studio.  The 18 volt pre-amp and piezo save my life so balanced and never hurts my back.  I never get tired with this bass.

—Rick Marcel
Hailing from Rochester, New York, Rick Marcel spent most of his upbringing listening to Salsa, Jazz, Blues, Pop and Soul music. At the age of 12, he began sneaking in to local clubs and venues sitting in with adult bands and refining his Vocal, Bass and Guitar skills. He started his first band (The Radiance Band) at the age of 13 along with two of his closest friends – Drummer, Tony Howard and Bassist, Scot D. Brown performing at countless venues across upstate New York. They caught the eye of one of the biggest Promoters in the world, Mr. Alan Haymon who booked them as opening acts for well-known entertainers such as Maze, Millie Jackson, SOS Band and Kashif. They also played at many local colleges throughout upstate New York.
Rick moved to Houston in 1993 and became the Guitar and Bass sound of Southern Modern Hip Hop working for such labels as Rap A Lot Records – UGK, Pimp C, Bun B, Slim Thug, Ghetto Boys, Bushwick Bill, Will D, and Scarface, Short Stop Records – PH Factor and Lil O and later in 1998 he was introduced to Cash Money Records by Papa Reu where he sparked a Musical/Producer relationship with Mannie Fresh producing such Artists as Lil Wayne, BG, Big Tymers, Juvenile, Mack 10, Tina Marie, and Turk just to name a few. You can also hear Rick on records with artists such as Chris Walker, Marcus Anderson, Regina Belle, Lady E, Stellar Award Winner -James Fortune, Natalie, The Las Vegas Mass Choir, Bridgette Taylor, Gary Mayes, Ed Montgomery, Sheila Moore Piper, Kyle Turner, and DW3.
Rick would later tour with the Hall of Famers The Isley Brothers in 2010 as the replacement for Ernie Isley. He has also toured and worked with Legends such as Charlie Wilson, The Jackson's, Stephanie Mills, Kool and The Gang first ever sub for Robert Kool Bell ,Kenny Lattimore, Deniece Williams and the late Ali Woodson of the Temptations. He is a regular on many Cruises such as The Dave Koz abd Friends Cruise, Smooth Jazz Cruise and Soultrain Cruise.
Rick currently splits his time between Houston, Texas and Los Angeles, California where he frequently seen sitting in with Bands such as DW3, Michael Lington, L.A Collective and Scott Gertner's All Stars.
Rick also has his own music that he arranges, writes and produces as a multi-instrumentalist and vocalist. His Made for you CD and Love Letter CD is a cross between Jazz Fusion and R&B. He is currently working on an R&B album expected to be released early 2019.
.