Roberto Bernardinello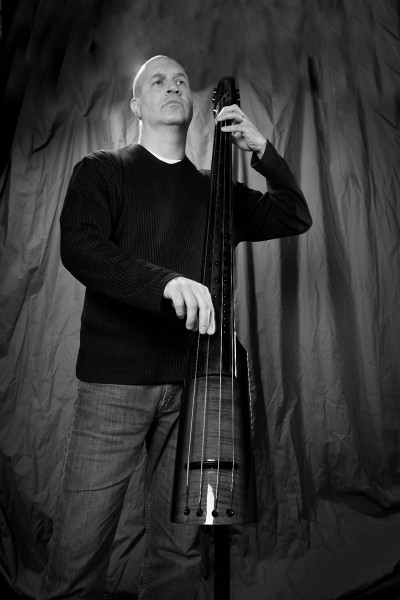 Instrument

WAV4 Upright Bass

Groups

Diatriba, Marco Porcu, MP Project, Solo Artist

Website
Roberto began to play bass in 1991, at 23 y.o. under the guide of Piero Orsini (Gipsy Kings – Lisa Hunt), and started performing in various fusion and funk band projects.
In 1996, Roberto joined "Diatriba," a flamenco-jazz band lead by virtuoso guitarist Marco Porcu,  performing at the Sant Anna Arresi Jazz Festival, opening for Noa. For the following three years he performed on the Mediaset-Odeon TV channel and clubs in Italy.
Moving to London in 2003, he resumed his collaboration with Marco Porcu, establishing the "MP Project" performing from London to Kansas and California.
Currently based in Wichita, Kansas, Roberto leads many ensembles and is a staple of its vibrant music scene.
Recent collaborations include artists: Harry James Big Band, Denny Gottlieb, Denny Jiosa, Kenny Zarider, Adam Larson, The Fabulous Flippers, Gary Foster, Earl Dumler, Christian Howes, Jay Daversa, Jerry Hahn, Philippe Bertaud, Joseph Vincelli, Tom Fowler, Bill Caldwell, Roger Lewis, Scott Strecker & Richard Johnson.
In 2010 he released his first CD "ONE" where he plays all the instruments: Bass, Upright Bass, Guitar, Percussion, Piano, Vibraphone.
In 2017 Roberto released his second CD "GEOGRAPHIC NATIONAL" a Visual-World Music concept that features international line up of musicians as Denny Gottlieb, Denny Jiosa, Kenny Zarider, Marco Porcu etc.
Roberto is official endorser of NS Design Basses, ProAmp Bass amplification and GHS Strings.
Roberto holds a Bass/Guitar teaching position at Butler Community College in El Dorado, Kansas.