Wayne Brewer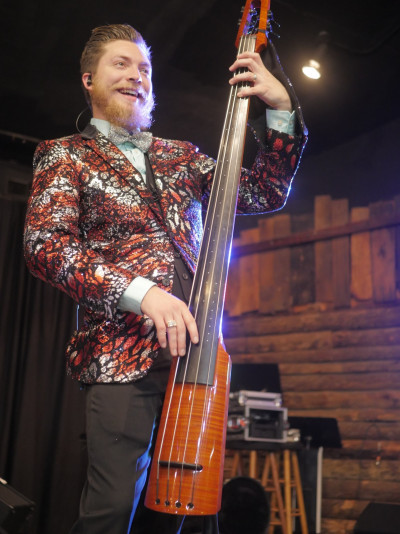 Instrument

WAV4c Upright Bass, WAV4 Violin

Groups

Gary Brewer and the Kentucky Ramblers

Website
Because of its compact size, sound comparability, and reliability while on the road as a full-time touring musician, I prefer my NS Upright Bass.

—Wayne Brewer
Gary "Wayne" Brewer Jr. (called Wayne Brewer by his family and friends) is part of the 6th generation of Brewers. Wayne was born on February 8, 1995, making him 23 years old today; and he has been enjoying music all his life. His dad, Gary Brewer (leader and founder of Bluegrass group Gary Brewer and the Kentucky Ramblers), brought Wayne into the studio with him to record on one of his CDs ("Memories of Home") singing lead and playing guitar on "Y'all Come" (alongside Gary Brewer and Finley J. Brewer [Wayne's Grandpa]). Starting his career at the young age of 18 months old, Wayne was awarded the honor of "The Youngest Recording Artist" in the Guinness Book of World Records. To most people, one World Record is a major accomplishment, but Wayne Brewer was awarded TWO in his childhood. In addition to being "The Youngest Recording Artist", Wayne was given the award as "The Youngest Artist to perform on The Grand Ole Opry Stage".
Since Wayne received his 2 World Records, he has been in love with music. He now plays upright bass with Gary Brewer and the Kentucky Ramblers and has since he was 14 years old. Four years ago, he decided to teach himself how to play the fiddle. He got his desire to do so from hearing his Great Grandpa's albums. Wayne wanted to carry on the Old-time Mountain Music Tradition his Great Grandpa played. After practicing and learning the music on the fiddle, Wayne started playing fiddle tunes on stage and featuring his fiddle in Gary Brewer's songs. A couple years later, he decided to record his debut Fiddle album.
In addition to his debut album, Wayne has also been featured on other albums with Gary Brewer and the Kentucky Ramblers ("Homestretch" and "Vintage Country Revival"). While he performs on these albums, he was also co-producer to all three. Wayne started his career with his family and plans to keep going down this path. He loves his music and follows in his dad's footsteps.