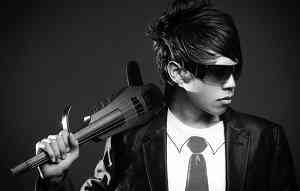 Standout electric violinist Jason Yang has endorsed NS Design, and we are delighted to welcome him!  Jason has become one of the most prominent electric violinists in his generation, attracting over two million views on his YouTube channel, and playing major shows throughout the U.S. and Europe, including the Consumer Electronics Show in Las Vegas, and at the Edinburgh Fringe Festival.
Jason studied with Arnold Grossi of the Philadelphia Orchestra, and with Naoko Tanaka and Elizabeth Chang, both of Juilliard.  He played with the Philadelphia Youth Orchestra, and has attended and performed at the Casalmaggiore International Music Festival in Cremona, Italy and the Tanglewood Institute of Music in Lenox, Massachusetts.
Jason plays a CR4 violin.  We love this minimalistic video collaboration with beatboxer Jake Moulton, but be sure to check out Jason's YouTube channel for many more amazing videos of his work, and have a look at his website to learn more about him.