The 2011 IBMA World of Bluegrass was a gathering of the top artists in Bluegrass. Held in Nashville at the end of September, the activities included Fanfest, Trade Show, Artist Showcases, and seminars covering a broad range of topics.
NS Design was well represented with a booth full of instruments for the Trade Show and the Fanfest. Mike and Janet Kropp, who head up the NS Sales team, were on hand. The NS booth was on fire with activity—several NS endorsers visited and jammed at the booth. Many other great players and fans jammed the booth to get a peak and demo of the instruments. The NS booth was a definite destination coordinate for the top bluegrass musicians and bands.
NS Design now boasts a roster of the best bass players in Bluegrass: Randy Barnes (Josh Williams Band) spent much time in the booth demoing, jamming, and greeting fellow artists and fans. Randy has really become our NS Design ambassador to the Bluegrass scene!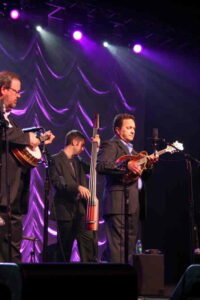 Other bluegrass bass-endorser luminaries spending time at the booth: Kyle Perkins (JD Crowe and The New South), Jeremy Arrowood (Daryll Webb Band), Sav Sankaran (Dixie Bee-Liners), Daniel Stewart (Larry Stephenson Band),  Blake Bowen (Michael Cleveland and Flamekeeper), and Reed Jones, (Audie Blaylock and Redline).
We had Wayne Taylor of Blue Highway and Edgar Loudermilk of Third Tyme Out come by to visit and sample our basses. Don Rigsby (Don Rigsby & Midnight Call) visited with us and will soon have his new WAV-5 Violin. Don brought his bass player Matt Osborne along and we signed him up to endorse the NXT bass.
Other visitors to the booth included Gary Rea from the Stringbenders and Ben Kaufman from the Yonder Mountain String Band. Crystal Shipley of the Dixie Bee-Liners dropped by to play the WAV Violins.
Jody King of Larry Cordle and Lonesome Standard Time also stopped by for a photo op.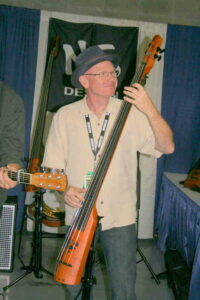 Tiller's Folly from White Rock, BC, Canada gave an impromptu concert between the NS booth and the International Folk Alliance Booth.  Laurence Knight was playing his CR4M Bass!   Brian Smith of Leadership Management, who manages Tiller's Folly, also represents Mountain Heart. Mountain Heart's Jimmy Van Cleve plays a CR5 Violin and Jason Moore uses an OmniBass on stage.
Mike Kropp, NS Design Director of Sales, is a well known banjo player in his own right. He performed and recorded with Northern Lights for several years. He has played and recorded with Vassar Clements, Peter Rowan, Jonathan Edwards, and Don McLean. Two of bluegrass banjo's brightest stars, Terry Baucom –"The Duke of Drive", and Mike Munford (Frank Solivan Band) dropped by to pick a few with Mike at the booth. Terry's wife Cindy is the proud owner and endorser for the NS NXT Bass. Cindy is well known to bluegrass audiences via her long standing, award winning, syndicated radio show called Knee-Deep in Bluegrass.
Rick Starkey, super flatpicker and Martin Guitar clinician jammed with Mike and several artists at the booth.
"Bear" Acker, Executive Director of ASIA (The Assoc. of Stringed Instrument Artisans) Visited with Mike. NS Design's Founder and President, Ned Steinberger, was the keynote speaker at the recent ASIA conference.