On January 16th, at the 2010 Winter NAMM convention, NS Design presented the Museum of Making Music with the first of a Limited Edition NXT upright electric bass, created in celebration of 20th Anniversary of the founding of NS Design by Ned Steinberger. Museum curator Tatiana Sizonenko, along with and Carolyn Grant, museum executive director, accepted the bass on behalf of NAMM. Making the presentation to the museum were Ned Steinberger, founder of NS Design, and Gary Byers, managing director.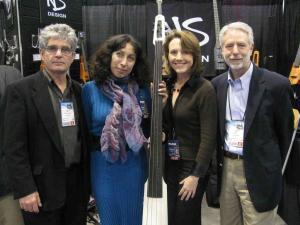 Crafted in the Czech Republic, the anniversary bass is part of the NXT series which made its market debut in November 2009, and is the latest example of Mr. Steinberger's concentration on beauty, aesthetics and performance. The NXT incorporates the trademark shape, feel and construction of NS Design's original CR series, and includes a patented Polar™ Pickup System which provides optimal sensitivity to either arco or pizzicato playing.
Located in Carlsbad, California, the Museum of Making Music was founded in 1998 by the NAMM Foundation. Its collections explore the history of the music products industry in America, from the 1890s to the present day.