NS Design's double basses have become popular with many bluegrass bassists for their terrific sound, comfort, and portability.  The
International Bluegrass Music Association's
annual conference in Nashville, Tennessee brings together some of the most talented Bluegrass players in the world, and we're pleased that many of these folks have chosen our instruments.
Reed Jones – Audie Blaylock and Redline – NXT4 Double Bass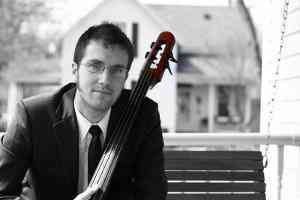 Holding down the low end for the band Redline, with frontman Audie Blaylock, Reed Jones and his NXT4 double bass travel to bluegrass festivals throughout the U.S. and Canada.  It's a journey that Reed began at age sixteen, when an encounter with a Tony Rice record inspired him to turn his musical talents to bluegrass.  As a senior in college, he began travelling and recording with the Kentucky-based Billie Renee and Cumberland Gap, with whom he played for five years and won SPBGMA's International Bluegrass Band Championship in 2006.  Before joining Audie Blaylock and Redline, Reed also played with Joe Mullins and the Radio Ramblers.
Jeff Byrd – Jett's Creek – CRT4 Double Bass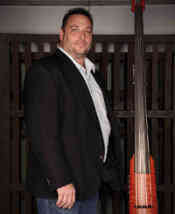 Ohio-based Jett's Creek is celebrating the release of their new album "Guilty", which acousticmusic.com describes as "lick-drenched bluegrass … the kind of energy that makes caffeine pale by comparison".  Jeff Byrd, who plays NS Design's CRT4 double bass, has found a home with Jett's Creek after an extensive career playing bass with The Jenni Lynn Band and Higher Ground.
Blake Bowen – Michael Cleveland and Flamekeeper – CR4M Double Bass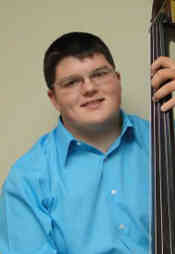 Born into a musical family, Blake Bowen was introduced to bluegrass at a very early age by his father, bluegrass veteran Jimmy Bowen. Blake began playing bass at age seven and joined his father's band just a few years later, touring the bluegrass festival circuit extensively. When his father took a hiatus from the road, Blake continued to play, working with successful groups such as Grand Ole Opry member Jesse McReynolds, Michelle Nixon, and, most recently, as full-time bassist for Randy Waller & the Country Gentlemen. Citing influences such as Barry Bales, Tim Dishman and Trey Nugent, Blake is drawn to both contemporary and traditional bluegrass music, making him a well-versed player in his own right.  Read more about Blake on Flamekeeper's website.
Randy Barnes – Josh Williams Band –  CR4M Double Bass

Randy stepped onto the stage in Richmond, KY at seven years old and never looked back. With his bass, guitar or banjo in hand, he is secure with any acoustical style, whether it is bluegrass, gospel or classic country.  Unwavering devotion to the music has earned him an international audience.  From his first performance with the PeeWees of Bluegrass, his professional career now spans  over  35 years with many highlights and accolades.  He has studied and mentored with some of the most talented musicians in the field.  Now a 2010 Award-Winner for IBMA Emerging Artist with the Josh Williams Band, his career is reaching new heights.  Read more about him on the Josh Williams Band's website.
Sav Sankaran – Dixie Bee-Liners – CR4 Double Bass

Sav Sankaran is a crackerjack vocalist and multi-instrumentalist. Originally from Altoona, PA, Sav now makes his home in Asheville, North Carolina. His soaring vocals and rock-solid downbeat on the bass are an ovation-inspiring highlight of DBL performances.  Sav released his solo album, "Back to Bass-ics" this summer.  Read more about Sav on the Dixie Beeliners' website.
Alex Muri – Chasing Blue – NXT4 Double Bass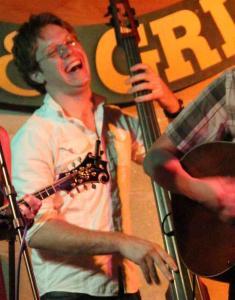 Alex plays his NXT4 double bass with Chasing Blue, a new group that formed in 2008 at the Berklee College of Music.  Originally from a small farm in Sudbury, MA, Alex began playing bass at the age of six.  He is now the principal bassist in the Berklee Contemporary Symphony Orchestra, and has performed with many notable musicians including Mark O'Connor. At Berklee, he studies jazz, celtic, and bluegrass styles and is pursuing a degree in Music Therapy.  Check out Alex on Chasing Blue's website.
Kyle Perkins – JD Crowe and the New South – CR4M Double Bass
Currently performing with JD Crowe and the New South, Kyle has come up through the ranks with some of the biggest names in Bluegrass including:  the Larry Stephenson Band and David Parmley & Continental Divide.  We're delighted that Kyle, an enthusiast for American-Made and Kay Acoustic uprights, has added an NS CR4M to his stable of instruments.  Read more about Kyle on JD Crowe's website.