Hi all.
I am in my last day of my summer of conducting orchestras again this year at Interlochen Summer Arts Academy. It has been a great summer with lots of performing on my NS Design CR Series violin.
I played for a fantastic art exhibit opening on July 24, using my looping technology, acoustic guitar and NS Design Violin.  It was a great art show with a fantastic turn-out.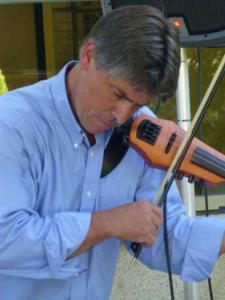 I also gave a little performance for a group of young string players on August 2.  We discussed all kinds of things from how an electric violin works, to how they are made, what kinds of strings they work with, and all kinds of other topics.  The kids, predictably, were interested in whether it could play with distortion.  It was a fun day.
Finally, on August 3, I soloed with my own orchestra on a Thom Sharp original called, I Can Hear You Knockin'.  My friend, David Kay, from Cleveland also soloed on the tune.  It was a showstopper and I really recommend the arrangment for any of you orchestra directors out there.
It has  been a great summer and I was thrilled to be out there with the best electric violin in the business.
Peace.
Scott