Tim Kidd, "new" bassist for Joe Mullins & the Radio Ramblers is a perfect match with NS Design's NS CR4T Double Bass. Just off a busy performance schedule at the 2010 IBMA (International Bluegrass Music Association) in Nashville, Tennessee this October, his playing shows how an electric upright bass can blend with traditional acoustic instruments in a top-notch Bluegrass band.
Tim is committed to getting the best sound from his instrument.  He says the NS CR4T electric upright bass offers "a great sound which is always consistent", on the road or in the studio.
Originally from  Morrow, Ohio, Tim began performing Bluegrass as a young teenager, performing with acts  Southern Gospel with the Hoskins Family and the Beacons,  later becoming acquainted with Joe Mullins and Mike Terry, with whom he has performed for nearly five years.
Joe Mullins and the Radio Ramblers will be in concert filming the award winning public television series "Song of the Mountains" on Saturday, November 6th at the Lincoln Theatre in Marion, Virginia.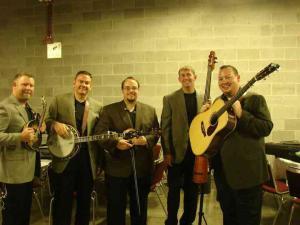 Joining Joe and the guys will be veteran entertainers the McPeak Brothers, the fantastic and youthful Snyder Family Band from North Carolina, the traditional Appalachian music of James Leva and Purgatory Mountain and contemporary bluegrass artists Hard Ryde from Canada. Song of the Mountains features bluegrass, old time, Celtic and Americana Music and is currently airing on over 190 Public Television outlets across the United States,  hosted by Tim White.
Joe Mullins and the Radio Ramblers have officially completed the recording  their soon-to-be-released gospel project for Rebel Records. "Hymns From The Hills" features both new and older songs and some of the finest singers and musicians in bluegrass and gospel music.  Guests include Ralph Stanley, Doyle Lawson,  Paul Williams, Rhonda Vincent, Larry Sparks, Dale Perry, James Allen Shelton, Matt DeSpain, Missy Everidge, and a children's choir.
For more information, upcoming events, releases and tour dates, please visit: