NS instruments deliver outstanding performance both in the out of the spotlight.  Two NS bassists (both playing the CR5M electric upright bass) have distinguished themselves in great performances under the stage — in the orchestra pit.
Anthony Cooperwood, until recently bassist for Cirque du Soleil's "Dralion" show, sent us this fascinating night-vision video of his performance in the orchestra pit underneath the acrobats.  Unlit except for the occasional flash of a spotlight, Anthony shreds in lockstep with the rest of his ensemble in their unique performance.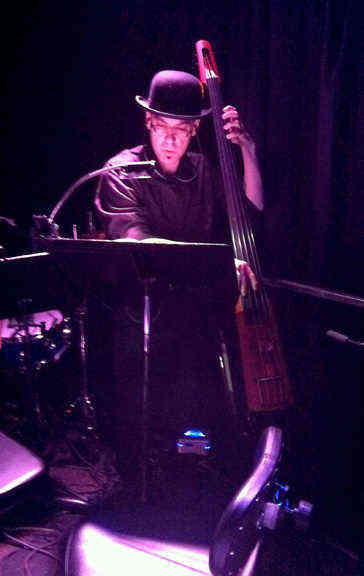 Also this week, NoTreble.com featured an online profile of NS artist Jonathan Moody.  A versatile multi-instrumentalist, Moody performs in the Kalamazoo, Michigan area, where he is a first-choice bass player for musical theater productions and also provides consulting assistance to musical directors.  Moody's versatility comes from his diverse musical background:
Never one to turn down a gig in his younger years, Jon found himself playing funk, rock, jazz, dixieland, and even backed a bell choir and polka band. Drawing from his experiences has given Jon a unique voice on the instrument, the ability to sit in the background and fully support the style he is performing, and yet keep a whimsical attitude present in every note he plays.
Read more about him on www.justmoody.com.