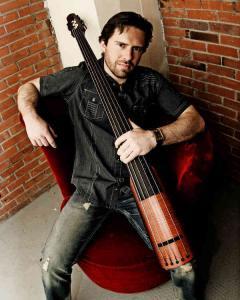 If anyone tells you a musician's life is easy, make them read Zach Fowler's biography. Zach's talent and creativity have put him in great demand as a bassist and musical director: that means great success and a lot of work.
Zach is bassist and musical director for six-time Grammy-nominated funk band The James Douglas Show, for the Arkiteks Music Group, and for the popular late-night talk show "The After After Party" featuring "Breaking Bad" star Steven Michael Quezada. And that's just a small sampling.
Read Zach's full bio below, and check out this clip from KASA in Albuquerque, featuring The James Douglas Show. (Check out the tone from that bass!)  And be sure to visit Zach on Facebook.
We're delighted to welcome Zach as an NS Design endorsing artist, and we're glad the NXT-5 double bass has helped him achieve his success!
James Douglas Show Share A Love Song: kasa.com
Biography
In a business where music is quickly becoming consolidated and superficial, Zach Fowler is an example that hard work and talent remain consistent and beneficial factors in the ever-changing music industry. A bassist and musician who brings an old-school creative mentality to a new breed of musicians, Zach Fowler is the complete package…a knowledgeable, groove-oriented musician with a deep pocket, amazing technical ability, uncanny stage presence, and a soulful solidity.
Born into a family that had a wide variety of tastes in music, Zach was exposed to countless genres of music growing up, allowing him to attain a natural sense of groove when he first started playing bass in 1996 at the age of 14. Less than a year after picking up the instrument, Zach was playing professionally, and was a standout jazz musician on both electric and upright bass, earning several soloist awards in high school. Today, Zach's natural groove ability combined with his years of professional study both in the classroom and on the stage make him one of the most in-demand and highly respected bassists, arrangers, composers, and producers in the region.
Zach studied several areas of music throughout high school and college. He was a member of several jazz and classical ensembles at the University of New Mexico, where he earned two music scholarships and graduated with a minor in music. Zach excelled in improvisation and ear training, earning him a place on the nationally recognized University of New Mexico Jazz Orchestra. During his time at UNM, Zach also studied with noted classical bassist Mark Tatum, ex-Maynard Ferguson musical director Glenn Kostur, world-renowned fusion bassist Gary Willis, and solo bassist Trip Wamsley. Zach had the opportunity to perform with legendary jazz artist Benny Golson, along with renowned jazz educators Tim Ishii, Randy Hamm, and Ed Peterson. Additionally, Zach shared the stage with rock artists like Jimmy Page and The Black Crowes, Skid Row, Quiet Riot, Tribe of Gypsies, Jeff Healey, and many others. He also played in numerous bands and projects of different genres including funk, soul, R&B, jazz, pop, rock, classic rock, progressive rock, latin, Afro-Cuban, traditional New Mexico music, country, classical, baroque, and countless others.
Currently, Zach Fowler is the house bassist and musical director for The Arkiteks Music Group, backing several international touring and recording artists including world-renown vocalist and reality television star Romeo Johnson, hip-hop Hall of Fame artist Money B. of Digital Underground, and Universal recording artist and Grammy contender The James Douglas Show. Over the past decade, Zach has performed between 115 and 200 shows per year.
Zach is entering his seventh year as bassist and musical director for The James Douglas Show, a pioneering band in the newly classified genre of "new-school funk." The James Douglas Show's debut album on Bungalo/Universal records, Garden City Music, has garnered national acclaim thanks in part to two songs written and arranged by Zach Fowler. "Words," a track that Zach co-wrote with guitarist and producer Pocket (Erykah Badu, Jada Pinkett-Smith, Morris Day and The Time), is The James Douglas Show's featured single on The After After Party music sampler released by McDonald's and Coca-Cola in 2008. In addition, Zach was given the "Best Bass Award" by GarageBand.com for his work on the live version of "Forever." Three other songs from the band, "Baby I Know," "Garden City," and "Would You" (which Zach arranged for the album) are currently in heavy rotation on syndicated radio nationwide. In November of 2008, The James Douglas Show's new album, The New Black, was released to huge numbers via iTunes, Amazon, and Rhapsody. "Downtown Playground," a song that Zach composed for the album, became the third most downloaded song in the band's history, and is now the theme song for "The After After Party with Steven Michael Quezada," a new regional late-night talk show for which The James Douglas Show serves as the house band, and Fowler as the musical director. In 2009, another song from The New Black, "U," won the New Mexico Music Award for Best Adult R&B Song, and The New Black was put on the official Grammy ballot as a consideration for seven Grammy nominations in six categories including Best New Artist and Album of the Year.
In 2009, Zach Fowler was appointed by Money B., rapper from the legendary Grammy-nominated hip-hop group Digital Underground, as bassist and musical director for his new project…a hip-hop band comprised of live musicians called The K.N.N. The K.N.N. will soon release their debut album that will undoubtedly capture the attention of audiences in many genres including hip-hop, old-school rap, funk, R&B, soul, and even rock. The K.N.N. will embark on an international tour that will also feature many of Digital Underground's biggest hit songs, as well as hits from West Coast hip-hop's most famous names. The album and tour also come off the heals of Money B.'s induction into the Hip-Hop Hall of Fame.
In January of 2010, Zach signed on as a musical contributor for a new project featuring noted Los Angeles-area vocalist and platinum music producer Romeo Johnson. Romeo earned his reputation as a background vocalist for many of the biggest names in music including Jody Watley, Sheena Easton, Patti Ausin, Teddy Riley, Queen Latifah, and he is the only vocalist to tour with both Janet Jackson AND Michael Jackson. Today, he is one of the most trusted names in the Los Angeles music scene as an A-list vocalist and vocal coach, and he is also the vocal judge and vocal director on P. Diddy's hit MTV show, "Making His Band," as well as P. Diddy's personal vocal coach. Currently, in addition to his work as vocal coach for the contestants on NBC's hit show "The Voice," Romeo is currently working on a new album on his own with an international tour to follow, both of which Zach Fowler will serve as bassist.
In addition, Zach also serves as a studio and session bassist both in Albuquerque and Los Angeles with many major label credits under his belt. He has worked with some of the biggest producers in the business, including recent projects with Marc M. Doc Williams (the producer behind the hits "Runaway" by Janet Jackson, "Take A Bow" by Madonna, and Top 40 hits by Mint Condition, Sounds of Blackness, CeCe Peniston, and many others), Hector Delgado (Jamie Foxx, Busta Rhymes, Eminem, Andre Crouch, Angie Stone, D12, and many others), and Mike Cee (Jennifer Lopez, Wendy and Lisa, Mystikal, Baby Bash, and many others). Zach performed on Martin's Favor's 2005 Gospo Centric release, A Place. That album was nominated for an NAACP Image Award in 2006. Zach is a first-call studio bassist for the multiple award-winning Wall of Sound Studios in Albuquerque. Zach's recent work also includes Japan's #1 artist B. Howard, "So You Think You Can Dance" alumnus Kamilah, Albuquerque hip-hop and R&B singer David Wade, singer/songwriter Paul Salazar, Santa Fe pop duet Sol Fire, local blues singer Leah Black, folk artist G'Larri, progressive metal project Into the Ocean, and New Mexico Music Hall of Fame singer David Nunez. Zach has also shared the stage with The Whispers, Debbie Smith, Red Wine, Fat City, Soul Divine, and countless others. In addition, Zach is a headlining performer at the Duke City Bass Bash in Albuquerque, which features some of the finest bass players in the world. Past performers at the Duke City Bass Jam, in addition to Zach, have included Trip Wamsley, Seth Horan, Stewart McKinsie, and many others.
While at home, Zach is the musical director for the brand new hit late-night television show, "The After After Party," which stars Steven Michael Quezada from "Breaking Bad." The James Douglas Show serves as the house band for the show, which airs on Askmilton.tv and the CW Network through FilmWorks Entertainment. Recent guests on "The After After Party" include three-time Emmy Award winning actor from "Breaking Bad" Bryan Cranston, another Emmy winning actor from "Breaking Bad" Aaron Paul, legendary actor and activist Wes Studi, celebrity speed painter Michael Ostaski, and many others.
Also when not on the road, Zach is a bass teacher in the Albuquerque area for intermediate and advanced bass students. Zach is also a clinician for Westone Music Products, and appears regularly at music trade shows including The NAMM Show.
Zach Fowler uses and exclusively endorses Westone Music Products, NS Design, Reunion Blues Gig Bags, PreSonus, Gallien-Krueger Amplification, Lectrosonics Inc., Radial Engineering, and Dean Markley Strings.